5 Benefits of IoT in Healthcare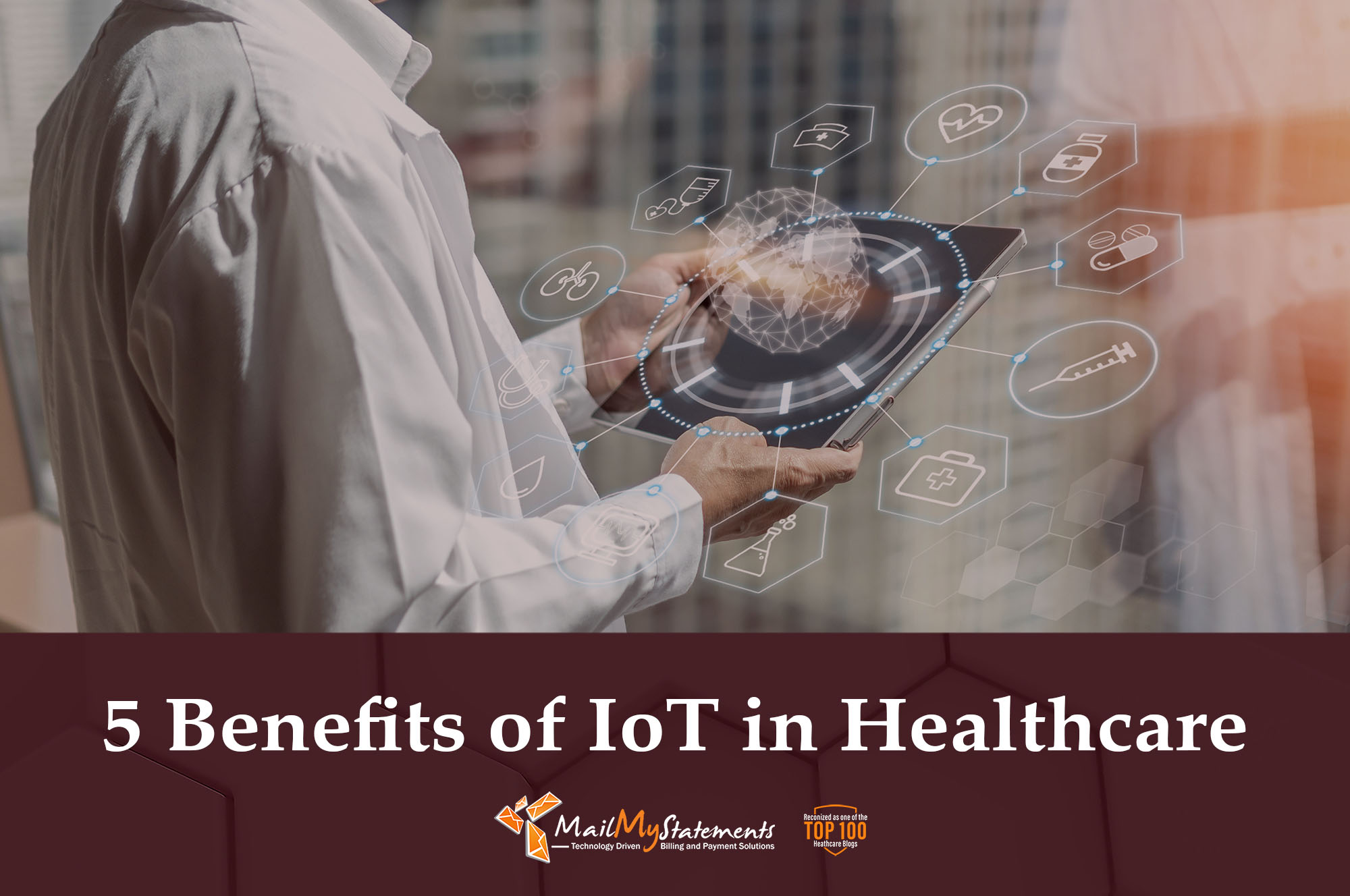 Technology and the internet bring undeniable convenience to everyday life. More recently, consumers are enjoying the benefits of interconnectivity between a variety of devices in numerous industries. The Internet of Things, or IoT, is the latest technology buzzword detailing how various devices (smartphones, tablets, wearables, smart home devices, etc.) connect and share data, enhancing the capabilities of each device. For example, retail marketing has become much more precise and beneficial to both consumers and retailers through promotions that engage consumers via the internet or mobile device, and eventually convert to in-store purchases.
The idea of IoT holds immense potential in healthcare. In fact, the industry is already seeing exceptional growth and benefits with the implementation of this technology. In 2015, the IoT in healthcare market was valued at $24.2 billion and is projected to reach $337.41 billion by 2025. One of the most popular examples of IoT in healthcare is wearables like smartwatches and FitBits that track the user's heart rate, sleep cycles, etc. Apple recently made headlines by announcing an Apple Watch update that links with a mobile app to perform EKG heart monitoring.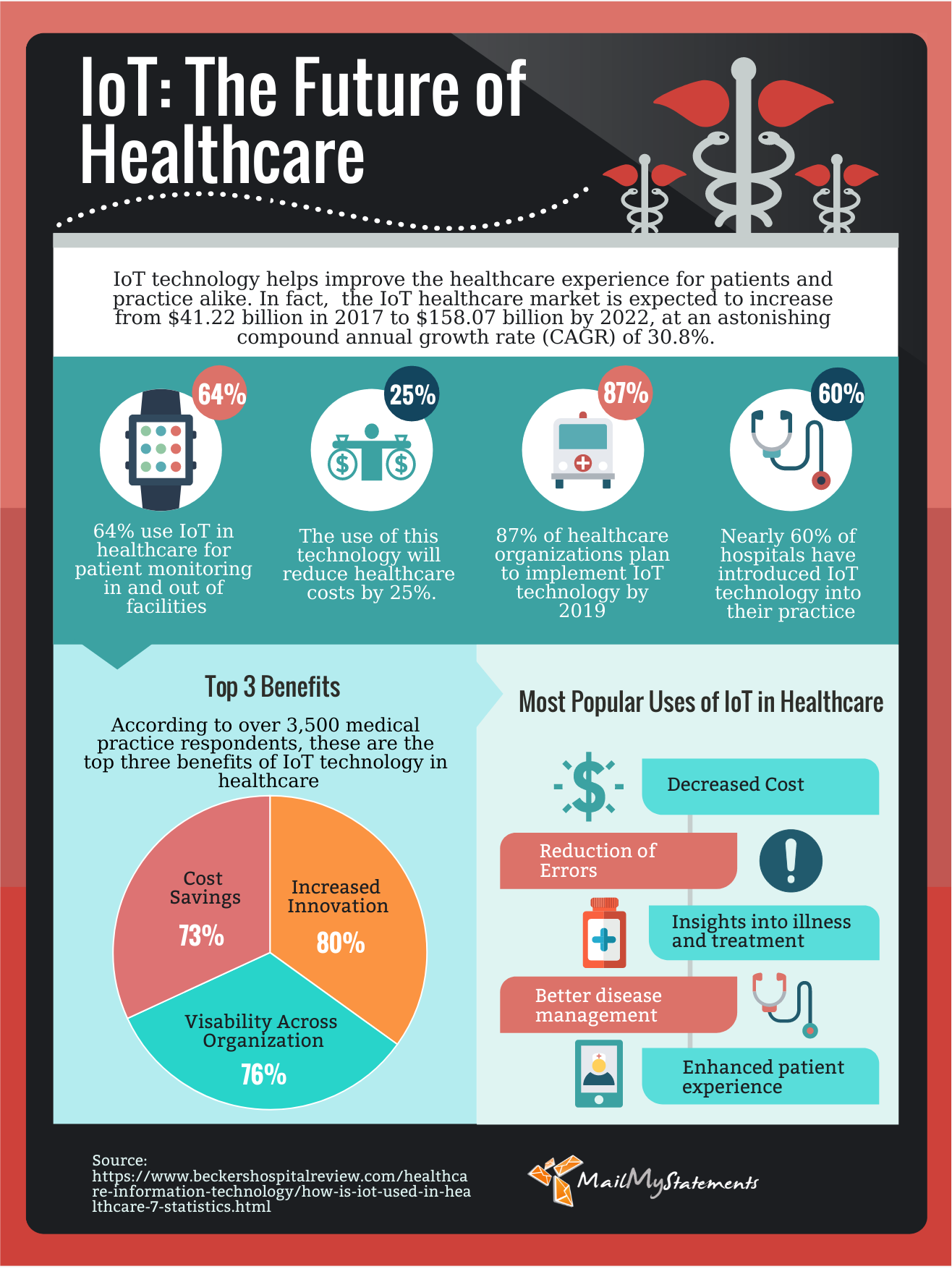 IoT interconnectivity continues to provide new ways to monitor one's health without visiting the doctor directly. It's safe to say that the future of healthcare innovation will stem directly from IoT technology- here 5 reasons why:
Real-time alerts
Many IoT enabled devices like smartwatches work constantly, and therefore pick up any changes in health instantly. After making such detections, the devices alert the user immediately, so action can be taken.
Acting on these alerts can help the patent seek help or treatment before the issue becomes too severe, saving money in bills and potentially the patient's life.
"The standard of care is you come into the office, and we see you two to four times a year. The information I have about you is two to four data points in a year. As a physician, we're just blind; we just hope things go well, and sometimes they don't."

– Richard Milani

Chief Clinical Transformation Officer of Ochsner
Better patient engagement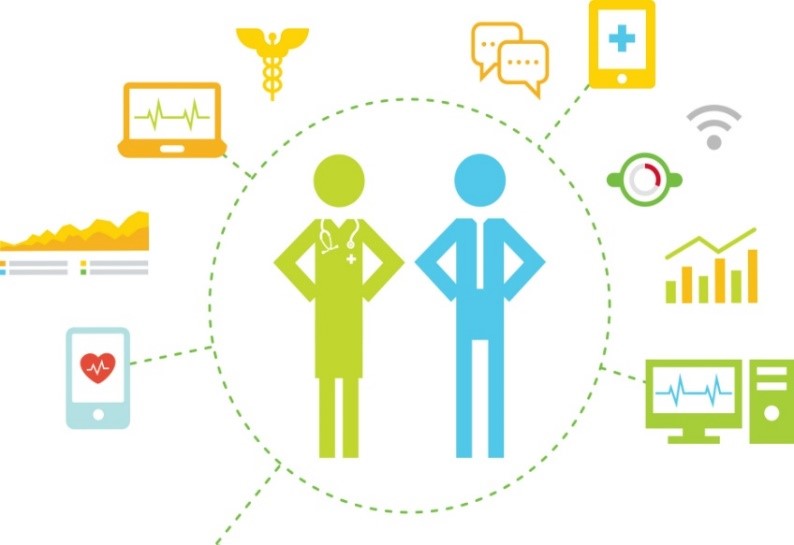 Patient engagement is another relevant healthcare buzzword inspiring change across the industry. Allowing patients more control over their healthcare journey not only inspires confidence in the system but also encourages patients to actually schedule appointments, participate in necessary treatments, then pay their bills.
IoT in healthcare technology encourages patients to interact with their own health. Depending on the device or method, patients have to monitor their own stats and ensure their health is in good shape. By doing so, they will seek help when necessary or continue with preventative care to avoid additional treatments.
Reduced healthcare costs
The accurate and efficient data collected from IoT devices help cut down costly operational inefficiencies. In fact, research predicts that IoT will continue to drive these costs down by 25%, or $100 billion each year
Because patients are engaged with IoT technology and using it receive real-time alerts, they are preventing more serious issues from arising. In doing so, they save significant amounts of money that might be required to treat a serious condition.
These devices are also extremely accurate. They help diagnose specifics instantly, eliminating questions about certain symptoms. Increased accuracy results in reduced testing and research, which saves money for both the patient and practice.
Telehealth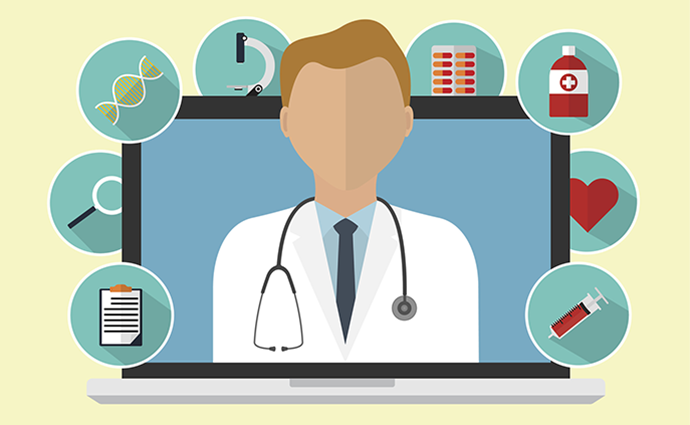 One of the most obvious ways IoT in healthcare has added value is through telehealth. With the sharp increase in telehealth adoption due to the Covid-19 Pandemic, the healthcare industry will likely continue to shift towards virtual appointments when practical.
Telehealth systems allow the patient to contact their doctor or other medical assistance instantly through specific mobile apps or online patient portals. Not only does this system benefit those who are at high risk for Covid-19 and other illnesses, but online appointments also help those who struggle to physically travel to the medical office or who prefer technology-based services.
Prior to the pandemic, patients avoided visiting the doctor because of a variety of inconveniences including the scheduling process, the time commitment, cost, and overall hassle. Telehealth applications help reduce or eliminate each of these concerns, increasing the number of patients seen by any given medical system.
If you're a medical provider implementing telehealth services, check out these tips to ensure you're properly billing for telehealth services!
Collect more and better-quality information
IoT-enabled devices collect data around the clock. Such frequent monitoring collects much more data than possible in any number of doctor's visits. Not only is the amount of data collected much greater, but these devices are able to instantly analyze, interpret, and report the data.
This process simplifies the entire system for the healthcare practice and provides accurate, quick results to the patient.
With such a variety of benefits stemming from IoT, it's not surprising that healthcare systems around the country are implementing and benefiting from this technology. Here are a few notable examples:
Center of Connected Health Policy conducted a study that showed a 50% reduction in 30-day readmission rate because of remote patient monitoring on heart failure patients.
Ochsner Health System created the Connected Maternity Online Monitoring program, called Connected MOM to monitor pregnant women from their own homes. The constant monitoring allows for fewer visits to the doctor, while also providing more data. The increase in data helps doctors monitor patients more extensively and catch any potential issues before they become fully present while reducing the number of doctors' visits for these pregnant women.
Cyrcadia Health created an insert that can be worn under a bra that detects early stages of breast cancer. After five years of development, it has an 87% correlation to a verified, clinical diagnosis of breast cancer
Proteus Digital Health introduced an ingestible sensor that transmits information about nutrition, heart rate, body position, and activity.
As technology continues to develop, we may see quite an expansion of uses for IoT in healthcare. Many view this as a welcomed advancement and solution to the wide variety of problems – including cost and accessibility – in the current healthcare industry.
Also, the increased accuracy and availability of this technology will likely prevent worsening health conditions and save the lives of many.
MailMyStatements is a technology-driven printing, mailing, and payment vendor dedicated to simplifying the medical billing process. Get in touch today to learn how our technology-advanced systems can help you attract millennial patients.
LEARN MORE ABOUT HOW OUR SOLUTIONS CAN SAVE YOU TIME AND MONEY!
---
---