How to Ease Patient Payment Anxiety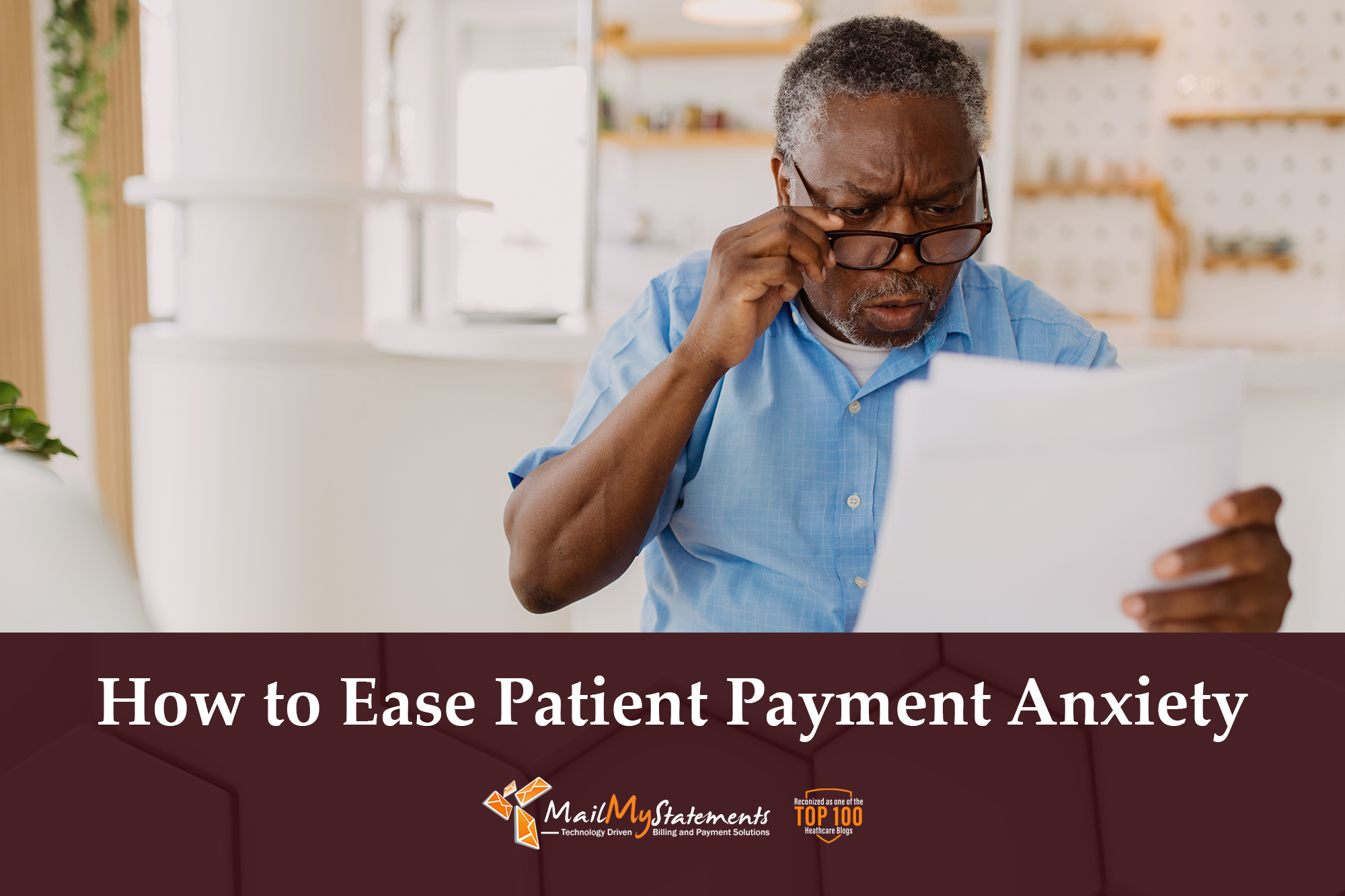 Difficulty paying healthcare bills has adverse effects on both patients and providers. Not only do unpaid bills delay the hospital's revenue collection, but out-of-pocket costs and patient payment anxiety can dissuade patients from seeing a doctor entirely. Even in 2019 before the Covid-19 pandemic, up to 33% of Americans reported that either they or a family member had delayed treatment for a medical condition because of costs (that's the highest this percentage has been in at least the last 20 years).
In order to reduce patient payment anxiety, a healthcare system must understand the patient's struggle and adapt their services accordingly. Ensuring financial communications offer a clear pathway to a variety of payment options can reduce patient confusion and speed up the payment process.
Although taking a consumer-first approach to service is typically a retail strategy, more and more healthcare providers are considering this method in an attempt to ease the process for patients, and therefore increase business and collections for the provider. In this article, we will examine common patient payment stressors and how you can mitigate them.
Patient Financial Responsibility Confusion
Patients feeling confused about their financial obligations is a common issue within the healthcare system that creates extra stress for both patient and practice. In fact, 74% of patients reported feeling confused about their medical bills.
When a patient feels unclear about their bill, they must take inconvenient steps to clarify what and why they owe, dragging the payment process out much longer. Medical practices then must execute additional resources to collect. These unnecessary steps could be avoided by simply designing a personalized medical bill that clearly depicts a patient's financial obligation with distinctive instructions for making a payment or reaching help via a customer service number or website.
Oftentimes, elderly or Spanish-speaking patients especially struggle to find the correct contact information to discuss issues with the bill. They attempt to contact the collection company or statement vendor instead of the actual practice itself.
Designing a functional billing statement with clear information regarding the patient's expenses helps reduce confusion from the start. However, it's also important to clearly provide help options for the patients who may need extra clarification.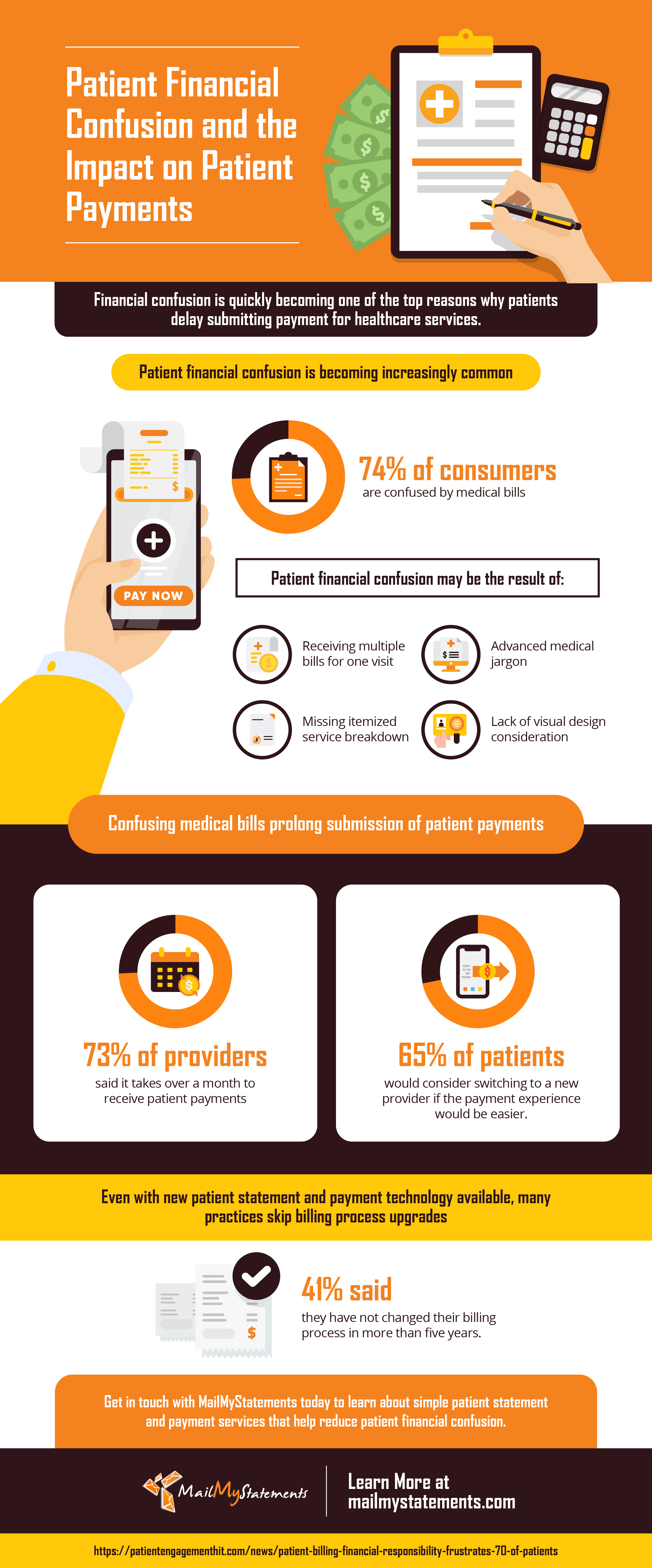 Patient Payment Options
The technology needed to simplify the healthcare bill payment process is here, and easier to implement than you may think. So why do 75% of providers still use traditional, paper-based collection methods when 91% of patients prefer electronic-based communications?
Electronic statements (eStatements) send directly to the patient's email, where they are much more likely to be seen and responded to compared to a snail-mailed statement.
Technology-based payment methods complement the eStatement. By implementing a branded payment portal, the practice can easily receive online payments guided from the eStatement. Simply logging in on a desktop or mobile device allows the patient to pay their outstanding balance in seconds, similar to many other services.
Other technology-based payment methods provide enough variety to please a wide range of patients, which increases the number of collections and reduces the amount of time the balance remains unpaid. These options include:
QR Code scans
Text-to-pay
Credit card on file (CCOF)
Payment Plans
And more!
Including a variety of technology-based payment options in addition to traditional collection methods ensure that each patient can pay in their preferred method, increasing satisfaction for all.
Patient Payment Plans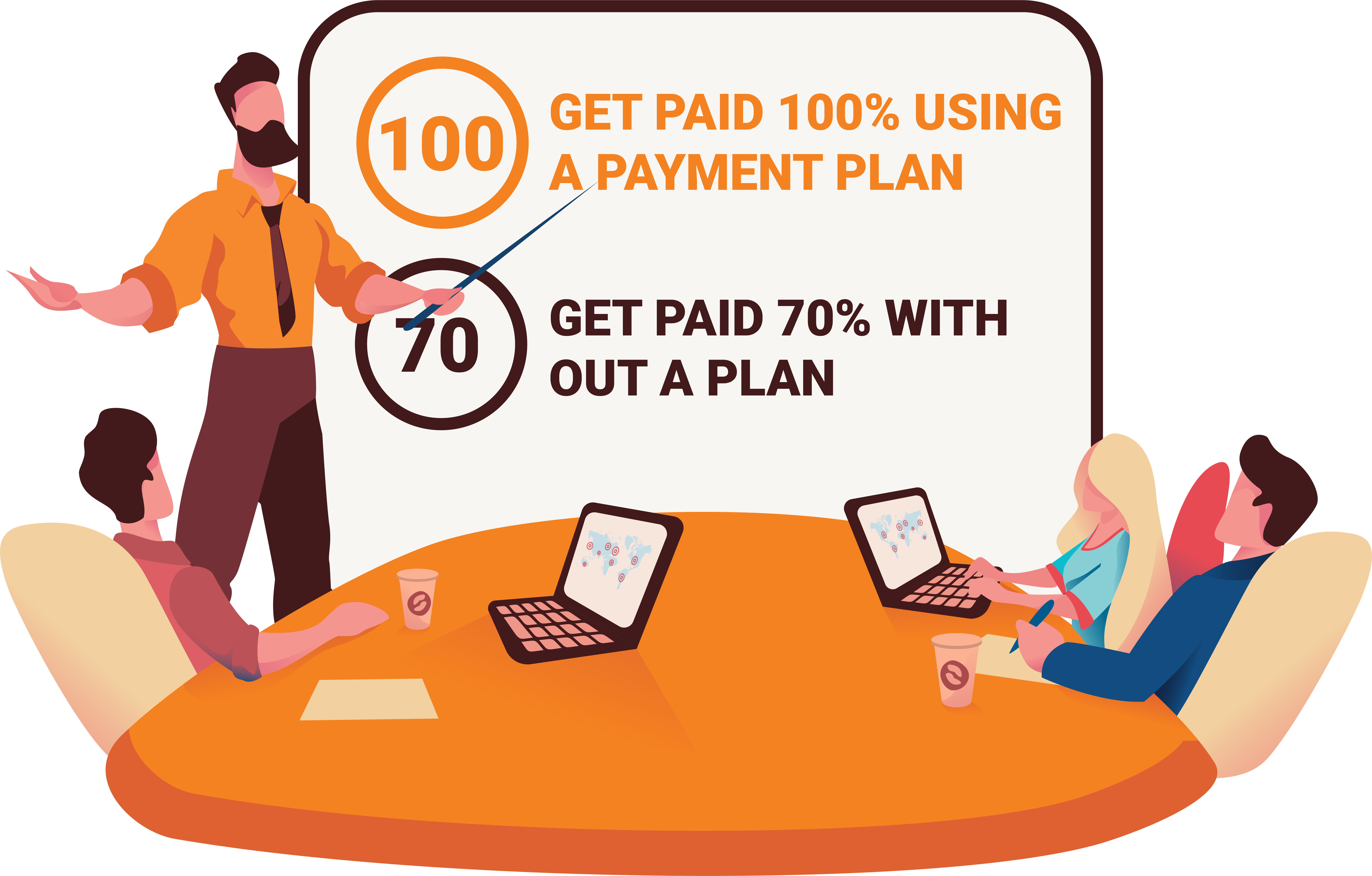 Payment plans are an excellent way to stabilize your revenue collection and can seriously improve the patient experience.
When a payment plan is structured correctly and clearly communicated to both current and prospective patients, you market your business as an option that is more affordable, more understanding, and more trustworthy than your competitor. Whether or not the competition actually has a payment plan in place, being proactive and positioning your business's plan as a primary selling point can pique the interest of prospective clients looking for better customer service than what their current provider is offering.
A payment plan option can help alleviate patient anxiety, ensure stable revenue collection, and build trust between both parties. Most importantly, a payment plan can re-introduce consistency into your institution's billing cycle by decreasing the number of late payments.
Final Thoughts
MailMyStatements is a technology-driven billing and payment vendor that specializes in simplifying the collection process for both patient and provider. Connect with our team to get started with patient payment and statement solutions that optimize your practice's cash flow.
LEARN MORE ABOUT HOW OUR SOLUTIONS CAN SAVE YOU TIME AND MONEY!
---
---