Does Your Healthcare Team Have Billing Burnout?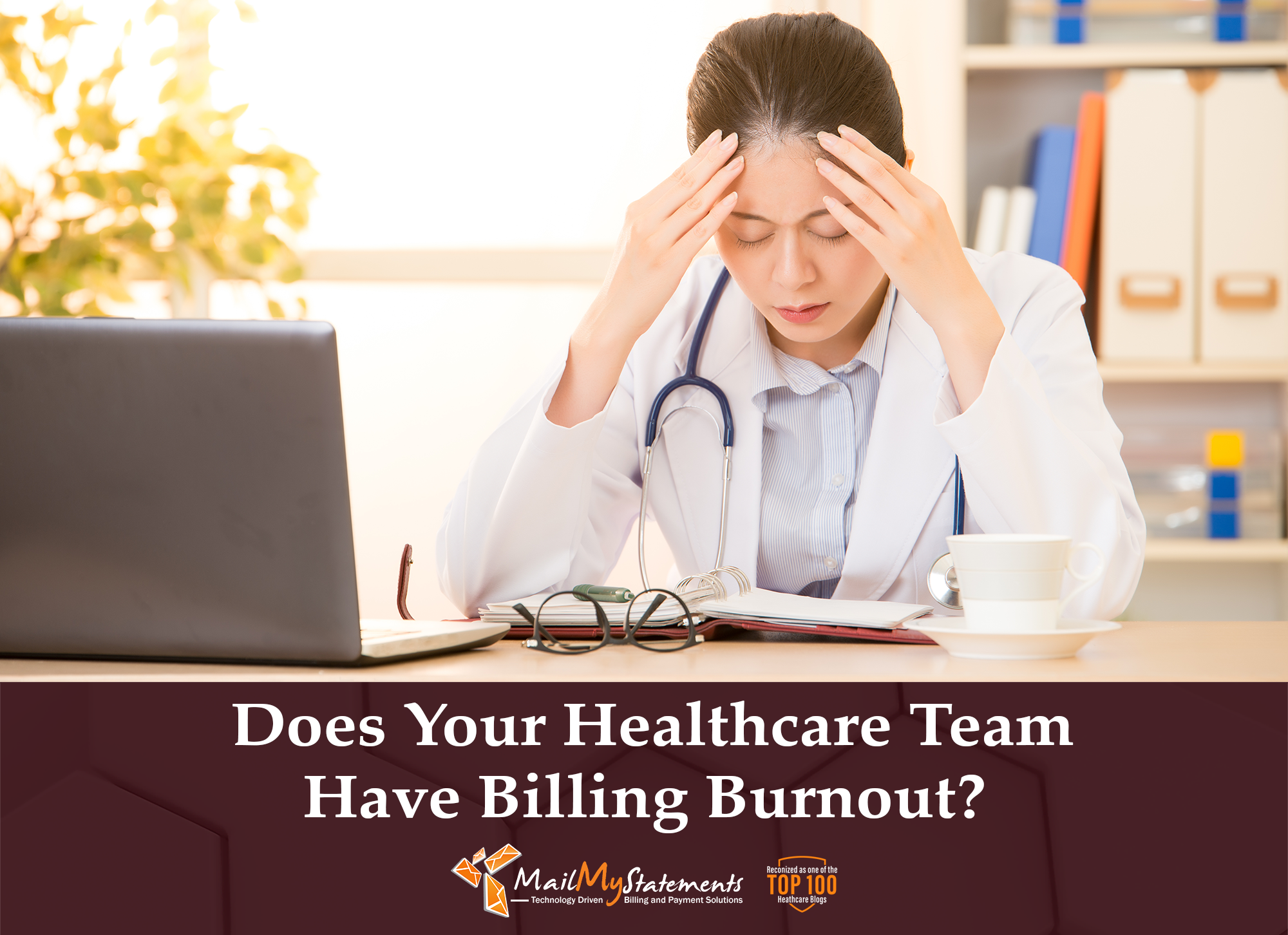 Has employee burnout affected your hospital or medical practice? Health care providers and support staff often get bogged down by billing functions, resulting in wasted time and delayed or denied reimbursement. Often, the information technology team feels the pressure of limited capacity to respond to cybersecurity attacks while shielding sensitive patient data. High staff turnover rates and constant patient appointments as a result of the pandemic add another layer of stress for the entire team.
Billing burnout-related stress can have a real impact on physical and mental health in the medical field. Billing burnout also impacts the financial health of the practice as providers lack the complicated knowledge needed for fast, accurate coding and the time to submit extensive reimbursement paperwork. With these smart strategies, your whole team can take a deep breath and recover from the effects of logistical and financial challenges in the workplace.
Incorporate a billing pre-review process
Implementing a physician billing review in the middle of the revenue process can dramatically reduce claim denials. In fact, an October 2021 article in Healthcare Finance reported that this strategy can increase hospital return on investment by up to 700% and reduce claim denials by 17%.
Ideally, the physician should review each patient reimbursement to ensure that the medical billing professional or third-party provider has accurately described the patient and coded the provided services. Depending on the scope of billing issues, you may want to institute physician review for all claims, but many practices limit this review to the most complex 30 to 50% of patient cases.
Renovate the revenue cycle
The Council of Affordable Quality Healthcare reports that inefficient revenue cycles cost practices more than $16 billion in 2020 alone. By optimizing the revenue cycle, your organization can reduce some of the factors that lead to staff burnout while boosting revenue and reducing claim denials. In fact, a 2021 report from the Healthcare Financial Management Association indicates that practices can avoid 90% of denied reimbursements, representing a collective possible savings of $235 billion per year.
Medical Economics recommends starting this process by looking at key performance indicators for a healthy revenue cycle, such as:
Collection rates per patient visit
Rates of clean claims
Accounts receivable
Review each step in the cycle from the first patient contact in the front office to the appointment itself through billing and collections. Look for communications breakdowns and challenges where streamlining the process could potentially save staff time, reduce inefficiencies, and/or increase revenue. Using this methodical approach can help you identify and target the direst issues.
The journal Physicians Practice also cites payment processing reform as a critical way to ward off billing burnout by removing issues such as cash flow problems, delayed patients, more accounts going to collections, claim denials, and problems with insurance prior authorization and patient verification.
Explore the benefits of payment outsourcing
A study conducted by healthcare consulting firm Kaufman Hall analyzed changes to the healthcare revenue cycle during the COVID-19 pandemic. The authors found that 33% of providers experienced increased claim denials, 27% reported providing a higher percentage of uncompensated care, and 22% said they now see more uninsured or underinsured patients.
In response to these financial challenges, the study authors recommend that some hospitals consider outsourcing all or part of the revenue cycle. For example, outsourcing only receivables can have a positive effect on reimbursements if data shows weakness in that area for your facility.
Outsourcing your practice's revenue cycle can also help address pandemic-related staff shortages. In the Kaufman Hall survey, 92% of hospital leaders say they struggle to attract and keep support staff. As a result, hiring a billing team could cost much more than outsourcing your billing functions, as most health systems have raised salaries and offer signing bonuses. They also tend to pay more for overtime in the billing area than they did prior to March 2021.
Outsourcing the arduous documentation requirements for health care billing and reimbursement can have a positive impact on provider burnout, according to the American Medical Association. Third-party firms dedicated to medical billing have extensive knowledge of applicable federal and state laws as well as each payer's unique reimbursement requirements. Using their expertise removes this considerable burden from physicians and support staff.
Look for HITRUST certification
An October 2021 article in Health IT Security cited a Spok survey indicating that more than 60% of healthcare executives and  50% of contact center and IT staff feel significant pandemic-related burnout. The survey respondents cited limited communication technology with complex features and lack of integrations as a main contributing factor to burnout. In addition, 80% of respondents said they saw an increase in the improper transfer of protected health information (PHI) as a result of the COVID-19 pandemic.
Working with a HITRUST certified vendor allows your practice or billing department to overcome these costly challenges. HIPAA violations related to PHI can result in serious legal sanctions, financial penalties, and irreparable damage to the facility's reputation.
Connect with the team of MailMyStatements to learn more about our suite of healthcare billing and payment solutions. As one of the first third-party billing vendors to achieve HITRUST certification, we can serve as a valuable partner in the process of securing PHI and preventing expensive data breaches.  Reach out today to learn more about how we can provide personalized assistance to relieve the pressure on your staff and reduce burnout.
---
---