Don't Be Surprised by a No Surprises Act Violation
The No Surprises Act, which took effect on January 1, 2022, includes new rules about healthcare billing. The federal law is designed to protect customers from receiving unexpected bills from out-of-network providers for urgent or emergency care. Understanding these provisions can help your practice avoid costly sanctions while strengthening patient relationships with improved financial transparency.
Defining the problem
According to the Kaiser Family Foundation, 20% of emergency room visits result in surprise medical bills for the patient. This also occurs with up to 16% of non-emergency hospitalizations, specifically when the person receives care from an out-of-network provider they did not select (an anesthesiologist, for example). These surprise bills subject patients to higher out-of-network charges as well as denied claims. KFF reports that the No Surprises Act will eliminate about 10 million surprise billing incidents annually.
Data in an article from Forbes indicates that these bills result in financial hardship for about 66% of patients. As a result, your practice could experience payment problems. Approximately half of Americans surveyed said they could not afford to pay a surprise medical bill in full.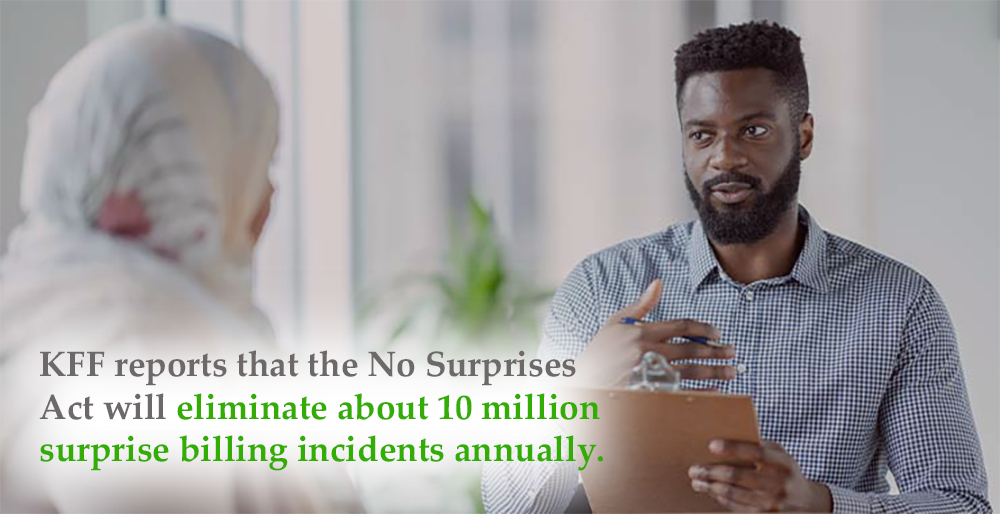 Understanding the provisions
These are the specific terms of the No Surprises Act that may affect your practice's collection protocols:
Applicable bills include charges for patient services received in independent emergency departments, urgent care centers, hospital-based EDs, and air ambulance services. NSA also covers out-of-network providers who practice in tandem with in-network providers. The law does not apply to ground ambulance services.
Health insurance companies must treat some out-of-network charges as in-network for the purposes of billing. This applies if the patient received care from an out-of-network provider but did not choose this provider. For example, if your physician performed an inpatient procedure for an in-network patient but required services from an out-of-network provider, you must bill the latter line items as in-network with the insurance company.
Patients who pay cash for services (those who do not have insurance, for example) must receive a good-faith estimate (GFE) before obtaining healthcare services. The GFE should eliminate billing surprises by providing the most accurate invoice possible prior to care.
Practices can ask patients to waive the new prohibitions against balance billing or charge them for the gap in services covered by the health plan. Patients may not be coerced to sign this waiver and must do so at least 72 hours before receiving the service in question. The waiver does not apply to emergency care, out-of-network services provided as part of emergency care such as radiology, labs, and other diagnostic services.
Complying with the No Surprises Act
If you provide out-of-network services to a patient with insurance, practices must submit the claim to the health plan rather than billing the patient directly at the out-of-network rate. The plan has 30 days to respond to the practice and the patient with information about whether the services qualify for lower cost-sharing under NSA. The insurance company must also make an initial payment to the practice along with an explanation of benefits. At this point, you can bill the patient for outstanding charges as detailed in the EOB.
Following the rules about GFEs will also keep your practice billing within the bounds of the new law. Keep these best practices in mind when treating patients who do not have insurance or will pay with cash:
When they schedule the appointment, let them know they will receive a GFE for the planned services.
The GFE should be easy to understand and written in the patient's preferred language. It should account for all available financial assistance, such as discounts or sliding scale programs.
You must provide the GFE as either a digital file or printed copy. Paper GFEs can be handed to the patient or mailed to their preferred address. Electronic files must be either a Word or PDF document that can easily be saved and printed by the patient.
Keep the GFE in the patient's record for at least six years.
Provide a new GFE if the patient does not complete the services within 12 months of the initial estimate.
Follow the established deadlines to provide a GFE:

Within one business day after the patient schedules the appointment for services that will take place in three to nine days
Within three business days after the patient schedules the appointment for services that will take place in 10 or more days
Within three business days after a patient request when he or she does not schedule an appointment
Patients can dispute medical bills that exceed the GFE by more than $400. They have 120 days to do so after the original billing date. If your practice needs to update a GFE, you must provide the new estimate to the patient no less than one business day before the service.
NSA also requires your practice to inform patients of their protections under this law. You must publish a one-page summary disclosure on the practice website as well as provide a printed version to every patient who receives services that fall under this law.
Final Thoughts
The law puts the burden of proof on providers and health plans, not patients, to determine responsibility for cost-sharing. Out-of-network providers who fail to charge in-network prices when the No Surprises Act applies could receive fines of up to $10,000 per violation. In addition to the federal No Surprises Act, states may have their own mandates about patient medical billing. Working with a professional billing partner can help your practice automate this process and ensure compliance with all existing regulations.
Get in touch with MailMyStatements today to see if our customized patient billing and payment solutions may be the right fit for you.
---
---