Boost Provider Collections with eStatement Services [Infographic]
The recent shift to greater patient financial responsibility in the healthcare industry is amplifying collection issues for many organizations. Current revenue cycle processes are geared toward government and commercial payer collections. However, the growing patient fiscal responsibility is spearheading industry initiatives aimed at patient satisfaction and increased collections. Healthcare eStatement services are a great way to appeal to patient preferences while simplifying practice processes.
What are Healthcare eStatements?
Healthcare eStatements provide patients with a platform to view and pay their bills online, encouraging quicker patient payments while reducing personnel and monetary billing resources expended by a practice.
Although research indicates that more than half of modern patients prefer to go paperless when it comes to their healthcare bills, most organizations still send paper statements. If medical practices want to increase their receivables and profits, they must adjust to focus on patient collections, which now account for more than 30 percent of overall revenue in the industry.
Patient Convenience
Healthcare organizations have massive incentives for going paperless, one of those being greater patient satisfaction. Increasing premiums and deductibles mean that patients are demanding a higher quality of care. As such, they are expecting providers to listen to their wants and needs then provide the options and services sought. The simple act of offering patient eStatement services instead of paper mail helps foster positive relationships between patient and practice.
Modernizing the payment process by providing secure, convenient payment options also helps to establish and build meaningful relationships with patients. Since patients currently pay most of their bills online, they will be more inclined to make timely payments when their healthcare statements line up with other monthly invoices. By facilitating better communication and greater transparency, healthcare organizations can expect faster, more complete payments from satisfied patients.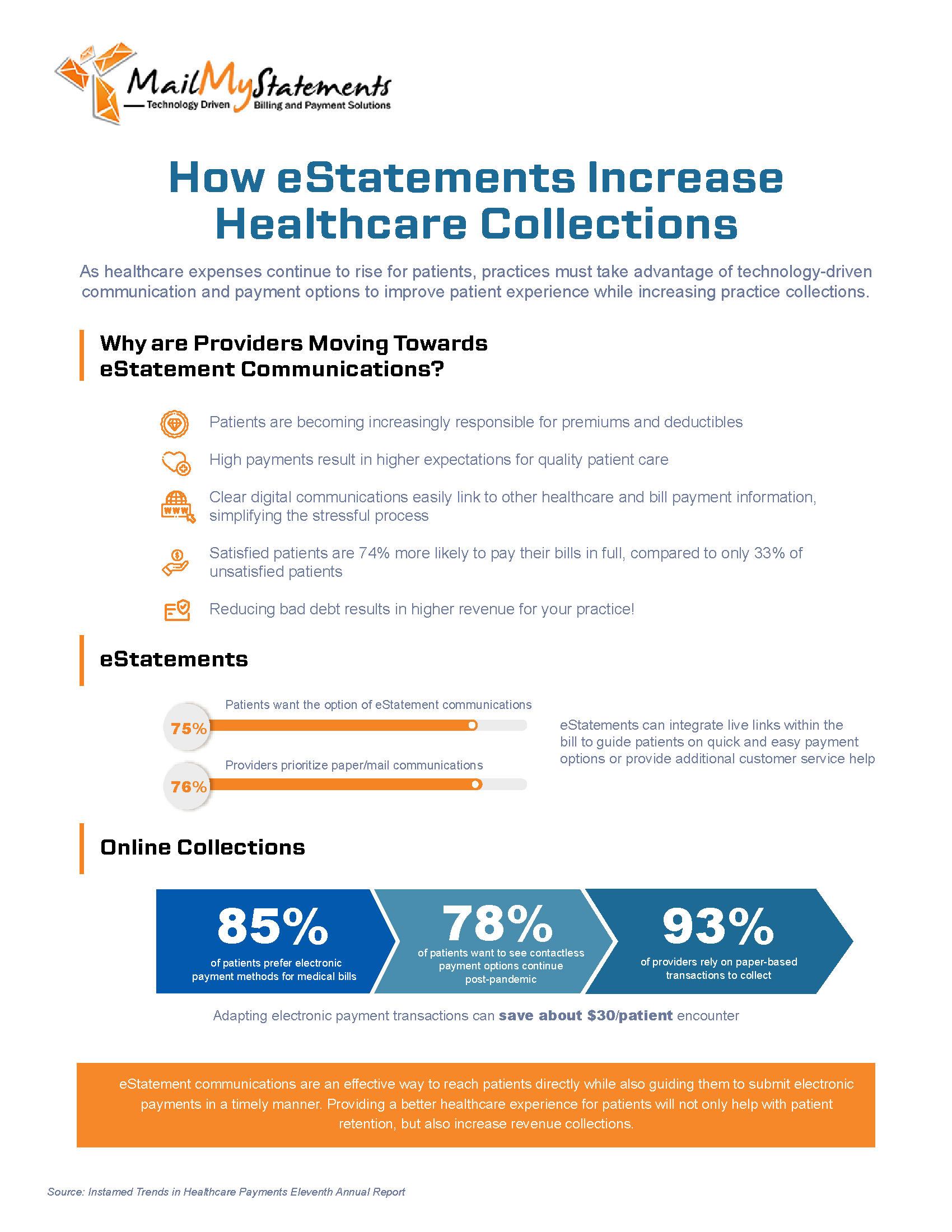 Healthcare Provider Convenience
Healthcare providers and organizations also stand to benefit from the shift to paperless billing. The increased clarity and quick delivery implemented through eStatement services helps patients understand their financial responsibility. Streamlined collection practices created through technology-driven payment options also help foster collaboration between patients and organizations, resulting in timelier and larger payments. Additionally, this online collection system helps to eliminate waste — an effective way to widen profit margins and practice environmental sustainability. This is accomplished by eliminating the cost associated with postage, paper, printing and man-hours in the billing process.
Effective Revenue Cycle Management
The healthcare industry previously spent significant time and energy focusing on government and commercial payer collections. However, as patients are becoming increasingly responsible for larger payments, the focus must shift to patient collections. To successfully initiate this shift, healthcare providers need to consider revenue cycle management activities that appeal to the patient. Utilizing eStatement services and a variety of payment options allows healthcare providers to help patients take more responsibility for their care. Transparency in billing and collection methodology leads to greater patient satisfaction, which promotes faster payments and increased revenues for the medical practice. Simply allowing patients the option of receiving bills online helps ease the process for patients and providers alike.
MailMyStatements is a vendor that strives to take the hassle out of medical billing through technology-driven solutions. Start a conversation with us to see how opting to send eStatements can benefit your revenue cycle today!
LEARN MORE ABOUT HOW OUR SOLUTIONS CAN SAVE YOU TIME AND MONEY!
---
---