5 Ways a Credit Card on File System Will Improve Your Collection Process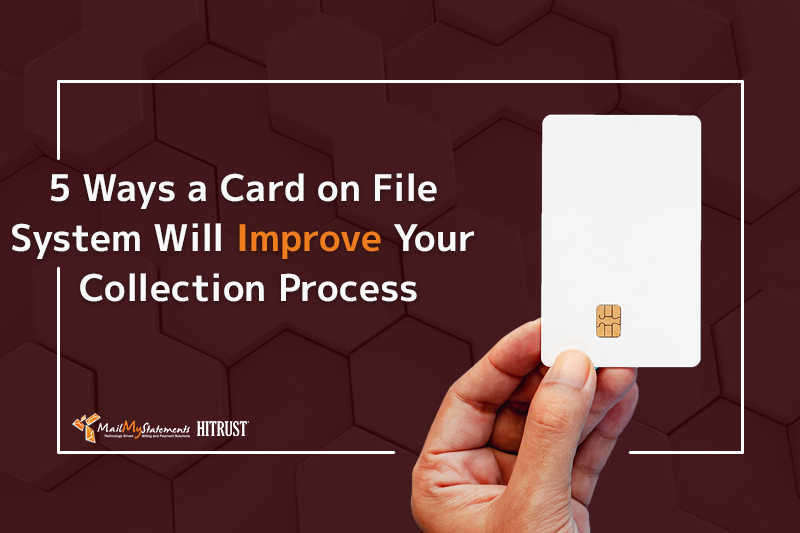 Today's healthcare payment system poses significant collection issues for the provider, especially with nearly 35% of revenue coming from the patient. Practices are having a difficult time collecting the amount due from patients if receiving any payment at all. Credit-card-on-file systems are frequently used to collect payments in many other industries and are recently starting to gain traction in the healthcare sector. In fact, 78% of patients surveyed say they are willing to provide a card on file and authorize use up to $200.
With so many patients supporting a card-on-file payment system, it is surprising to note that only 25% of providers are offering this service. As practices become increasingly concerned with collecting from patients, offering a card-on-file system will be essential. Let's look at 5 ways the credit-card-on-file process improves the collection process.
Receive Payments Faster
First and foremost, offering a card-on-file service reduces the amount of time a patient payment spends in accounts receivable. Instead of waiting months to receive payment from the patient, a card-on-file service allows the provider to charge the patient up to a certain amount (typically around $200) instantly. Compared to other technology-driven payment options including automated payment plans, electronic statements, and online bill pay, card-on-file services are most likely to create reductions in days in patient accounts receivables.
Keep Patient Payment Information Safe
The biggest concern over card-on-file payment services involves patient information protection. With the recent frequency and severity of healthcare data breaches, patients have every right to fear leaving their credit card information with a medical practice. However, a card-on-file payment system can actually offer increased security of patient information, as long as the practice partners with a HITRUST Certified vendor. A vendor with this advanced certification has high-level security safeguards in place to protect patient information and guard against data breaches.
Reduce Bad Debt
Writing off bad debt as uncollectable is a discouraging reality of the healthcare revenue cycle process. Bad debt stretches practices thin and forces many to close its doors. The recent push towards new and effective payment collection methods helps increase collections, but card-on-file services may be the most effective yet. In fact, this 2017 survey states that the highest percentage of provider respondents believes card-on-file payments will reduce bad debt compared to other options like electronic statements and online bill pay.
Eliminate the Need to Send Multiple Billing Statements
Often times, a practice needs to send out at least two paper or online billing statements to the patient before any payment is made. They must also monitor collection efforts and possibly turn over the account to a debt collector. This effort takes up time and resources that could be dedicated to other essential functions of the medical practice. Taking payment immediately from a saved card-on-file takes only minutes and reduces the hassle of the collection process.
Create Better Relationships with Patients
Patients often feel stressed and irritated when healthcare systems send multiple bills. People today avoid this by setting up automatic payments for most of their obligations, including rent, utilities, and car notes. By providing the option of a card-on-file payment service, your practice can allow the customer to opt in to make payments in the same manner as the rest of their bills.
Check out our infographic or download our new eBook to learn more about credit card on file payments!
As patients are beginning to demand payment services like card-on-file, it is important for medical practices to keep up. Offering this system helps increase revenues while making the payment process easier for patients.
Start a conversation with MailMyStatements today to see how their healthcare payment merchant partnerships can provide the technology needed to streamline the collection process and offer additional benefits.
---
---