6 Steps to a Better Dental Billing Service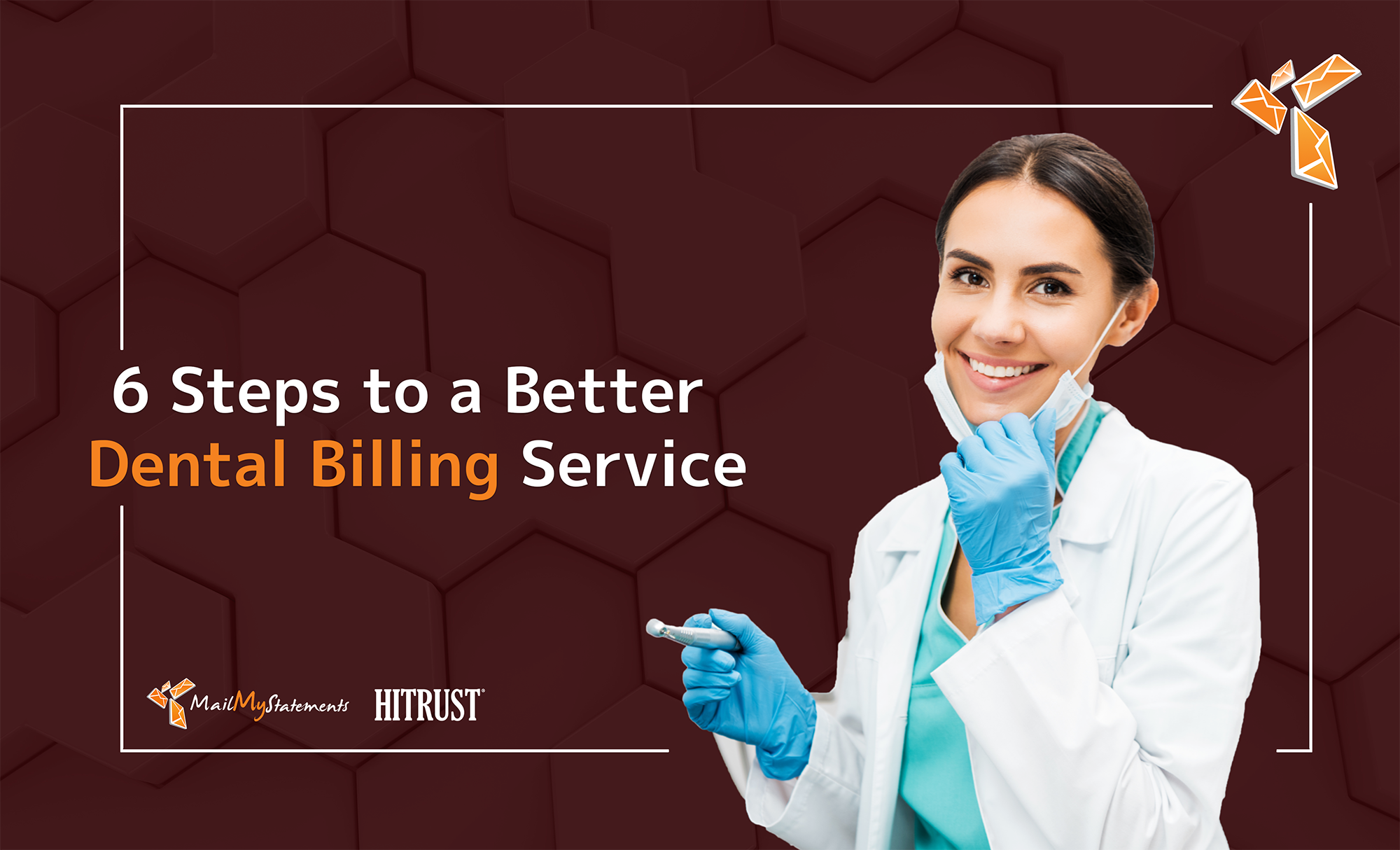 A simple guide to ensuring your dental billing service assists in increasing revenues while improving patient-practice relationships
If improving your dental billing service is not currently included in your 2020 goals, you should probably consider prioritizing it. Faulty or insufficient billing systems are a leading contributor to decreasing patient collections, resulting in less dental practice revenues.
Although overhauling your current billing service seems daunting, you can actually make multiple improvements all at once!
Let's breakdown six steps to revamping your dental billing service:
Step 1: Enhance Your Dental Billing Statements
Did you know that the design of your dental billing statement contributes to patient reception of information? Enhancing the look with carefully designed tools like color and attention-grabbing boxes helps the patient to understand their financial obligation. Increased patient understanding decreases the number of resources your practice needs to clarify charges while encouraging quick payments.
Step 2: Implement Multi-Channel Communications
Once you have an improved billing statement design, it's time to expand practice-patient communications. Although some patients still prefer to receive paper medical bills, the national trend is moving towards eStatements. Providing the option to receive eStatements instead of paper appeals to all patient demographics while helping the patient excise more control over their dental experience.
Step 3: Increase Security
Data breaches and increasing cybersecurity remains a top priority for those dealing with sensitive patient health information. In fact, more than 31 million patient health records were breached during the first six months of 2019, which is double the total breached records (15 million) during all of 2018.
Relying on HIPAA alone is not enough. Improving your billing system with a HITRUST Certification upgrades the protective strategy with increased controls and challenging audits. Because obtaining this accreditation takes an extensive amount of time and money, it may be easier to work with a vendor who already is HITRUST Certified.
Check out our infographic explaining the difference between HIPAA and HITRUST.
Step 4: Offer Multiple Payment Options
Providing patients with various ways to pay their financial obligations compliments your new multi-channel system. Options like mobile pay, IVR, online portals, QR code scans, text to pay, and traditional mail-in checks help reduce the stress of submitting payment. Integrating patient statement processes with a payment system allows for seamless patient interactions throughout the billing and collecting system.
Step 5: Accept Payment Plans
While implementing various payment options assists some patients in paying their obligations, some still need extra aid. Payment plan options are becoming a staple for any costly service provider. Allowing patients to space out their payments reduces the stress and anxiety brought on by high-priced bills.
Step 6: Cut Billing Costs
The final step in improving your dental billing service is to reduce billing costs. On average, practices that handle their printing and mailing in-house spend $1.00 per statement.
Contrary to popular belief, outsourcing the printing and mailing system cuts this cost significantly. A third-party vendor who owns a print shop receives bulk supply and mailing discounts, then passes these savings along to customers.
Final Thoughts
Prioritizing an overhaul of your current dental billing service also solves other important problems like increasing revenues and improving better patient-practice relationships.
The best part about all six of these steps? Your dental practice can implement each one by outsourcing the dental billing system to a vendor like MailMyStatements.
MailMyStatements is a HITRUST Certified print and mail company that specializes in statement design, advanced billing technology, and competitive pricing. Get in touch with us today!
LEARN MORE ABOUT HOW OUR SOLUTIONS CAN SAVE YOU TIME AND MONEY!
---
---