5 Ways to Upgrade Your Radiology Billing Service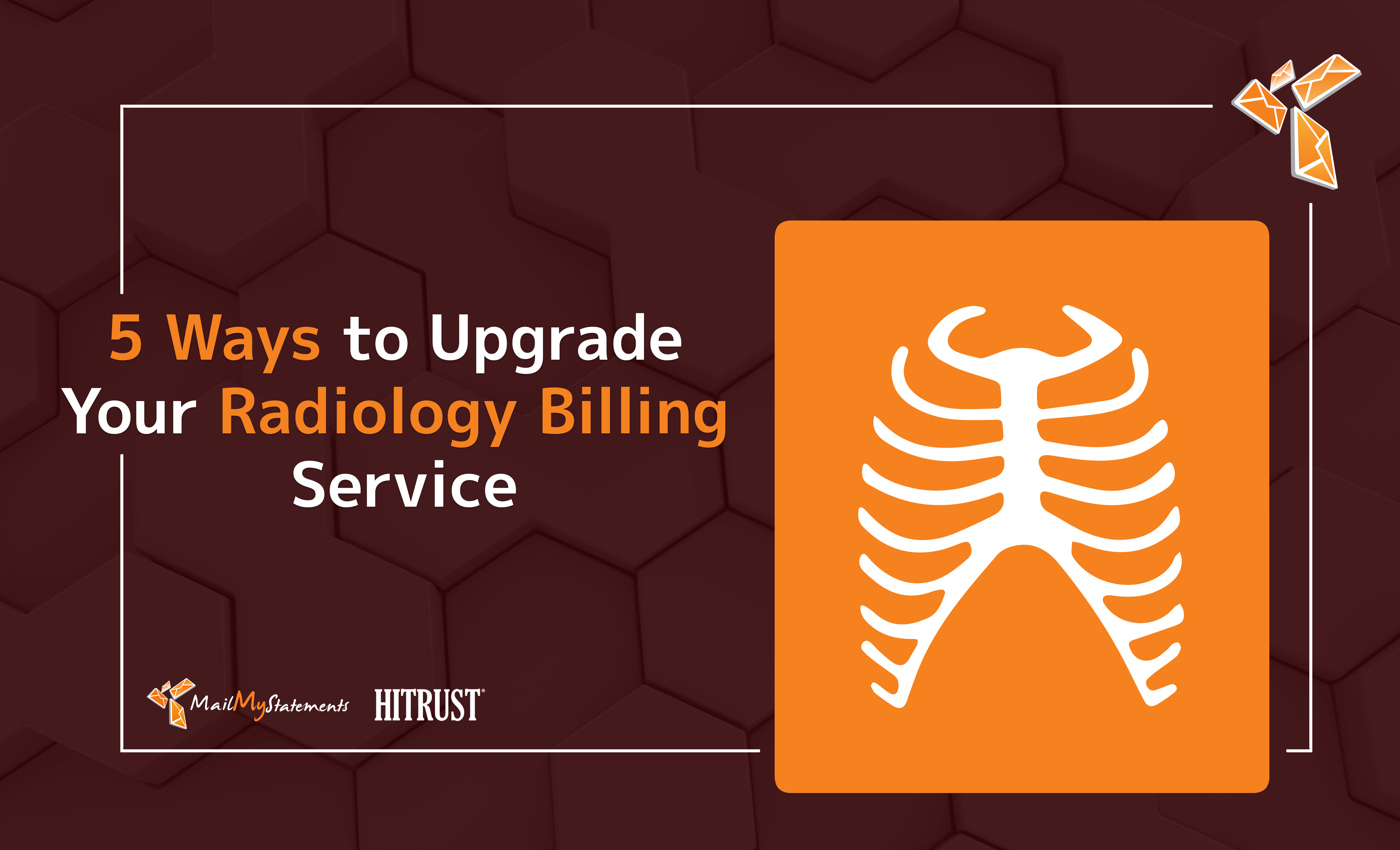 It's an exciting time for radiology. Technological advancements in artificial intelligence and diagnostic wearables are assisting providers in improving patient care. However, like many other healthcare practices, patients are hoping to see improvements to the typical radiology billing service.
Paper communications between radiologists and patients are typically slow and confusing, while the options provided to submit payments are scarce.
Simply upgrading your practice's radiology billing service is an effective way to strengthen relationships between provider and patient, while simultaneously increasing the inflow of revenue.
Overhauling your current patient statement and payment process may seem daunting but can actually be rather simple. Let's look at five easy ways to upgrade your current radiology billing service:
Improve Your Radiology Billing Statement Design
As of 2018, 70% of patients reported feeling confused by their medical bills. Confusion is among the top reasons why patients put off paying their financial obligation.
Recently, providers have shifted toward prioritizing a clean look using tools that effectively highlight important information and reduce patient confusion. Removing the distracting barrier of confusion results in quicker payment reception.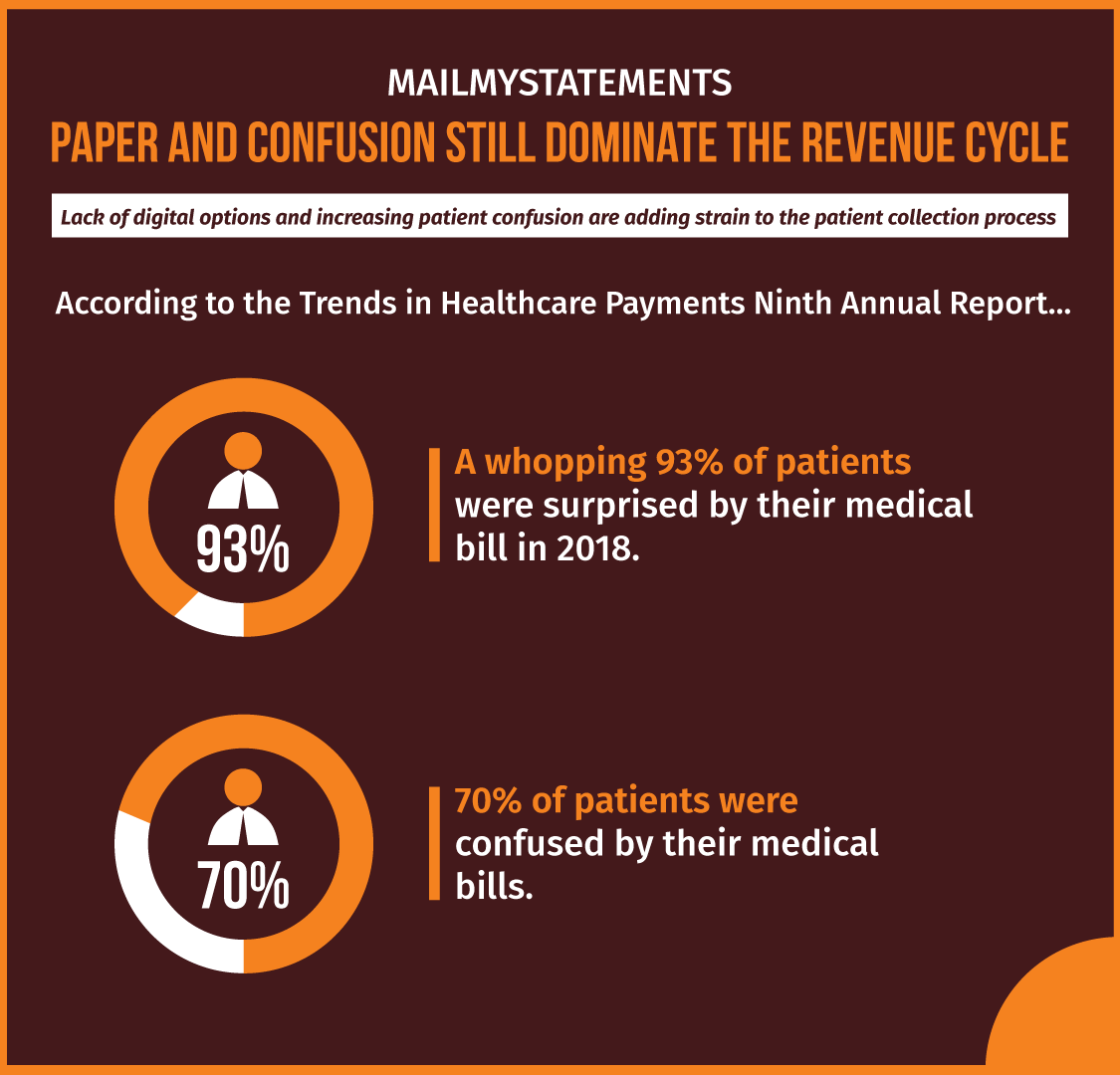 Reduce Billing Costs and Man-Hours
Arguably the best way to upgrade your radiology billing service is to do more for less money. Radiologists who handling their patient billing in-house pay on average $1.00 per statement and spend countless man-hours each week handling the statement printing and mailing.
Did you know that outsourcing this process not only saves precious time but also reduces the cost of sending radiology billing statements?
Third-party vendors receive bulk discounts because of their high-volume production, allowing them to pass the cheaper prices along to your practice.
Increase Information Security
Unfortunately, cybersecurity concerns and frequent data breaches have been a reoccurring trend in healthcare over recent years. More than 31 million patient health records were breached during the first six months of 2019, which is double the total breached records (15 million) during all of 2018.
HIPAA alone is no longer enough to protect sensitive patient health information. Many radiology practices are now requiring their billing service to hold a HITRUST Certification, which entails a significantly more detailed audit than HIPAA.
Check out our infographic explaining the difference between HIPAA and HITRUST.
Obtaining a HITRUST Certification is difficult, which is why working with a third-party statement and payment vendor who already earned this accreditation is the most efficient way to protect patient information.
Offer eStatement Options
Most consumers are benefiting from the trend towards eliminating paper and opting to receive online communications from industries like banks and credit cards, so why not from their healthcare providers as well? Adoption of eStatements in healthcare is surprisingly low – 90% of providers still prioritize paper communications even though 72% of patients would rather receive their billing statement online.
Providing the option for patients to opt-in to receiving eStatements instead of mailed paper statements appeals to the majority, resulting in a better practice-patient relationship. The decrease of paper usage also poses environmental benefits.
Offer Varied Patient Payment Options
Another preventative factor for patients paying their financial obligation is lack of payment options. Millennial and Generation Z patients are especially accustomed to online payment methods, and as these demographic groups are becoming frequent participants in the healthcare system, appealing to their needs is especially important. Some of these opportunities include:
Online via portal
Mobile
QR code scans
Credit card on file enabled payment plans
Providing an array of options increases the chance of appealing to a wider range of patients, helping to encourage prompt payments.
Final Thoughts
If your radiology practice has struggled with fostering lasting relationships and patient collections, your statement and payment process may need an overhaul.
Ready to implement these five strategies, but unsure of where to start? Simply working with a third-party vendor like MailMyStatements accomplishes each of these objectives for you.
Get in touch with us today to learn about integrating an updated statement process with various patient payment options at an unbeatable price.
LEARN MORE ABOUT HOW OUR SOLUTIONS CAN SAVE YOU TIME AND MONEY!
---
---