5 Benefits of Outsourcing Your Bank Statement Printing and Mailing
Statements are a crucial part of the banking industry. They provide valuable data on account-holder activity and relay urgent payment details. However, as competition within the banking industry increases—and advances in technology develop exponentially—financial institutions must focus on growing their brand and staying relevant. When conducted in-house, bank statement printing and mailing duties can take up an unnecessary amount of time and resources. By outsourcing these tasks, companies can focus on improving customer relations, building comprehensive marketing strategies, and monitoring compliance issues.
Banks that outsource services to third-party vendors can streamline these processes and free up employees. Customizable designs and secure mailing systems are just a few of the tools used by vendors to improve operations and increase efficiency. By removing superfluous in-house administrative duties, banks can redirect resources back into the company, develop new products, address consumer concerns, and build stronger partnerships.
5 Benefits of Outsourcing Bank Statement Printing and Mailing
Outsourcing simple, day-to-day administrative duties to third-party mailing services can reduce unnecessary overheads and boost business. Here are five benefits for employing bank outsourcing services for all of your statement printing and mailing needs:
1. Keep Track of Bad Address Reports
On average, 10% of the population moves every year. If inaccurate data is not corrected, the number of bad addresses in a bank's database will continue to grow. Asking in-house staff to verify and update old addresses may pull them away from more vital tasks. Third-party vendors have the time and expertise to track existing mailouts and ensure any bad addresses have been removed or updated.
The USPS National Change of Address (NOCA) system is updated every time a resident notifies them of a move. Licensed mailing services are granted access to this list and can automatically update bad addresses with new ones. As a result, less mail is lost or returned to the sender. If discrepancies appear in the database, mailing services can remind consumers to update their contact details with the bank.
Financial institutions are not granted access to NOCA's list and are left to rectify bad addresses manually or through patchwork systems. Banks must turn to licensed third-party vendors to ensure that vital compliance inserts or private monthly statements are delivered to the correct address. Airtight mailing services help to build trust between banks and account-holders. Therefore, it is in the interests of both customers and banks to outsource these tasks to qualified parties.
2. eStatement Options
In recent years, there has been a growing demand for more efficient payment-processing systems and 'greener' practices. JPMorgan Chase spent $11 trillion on banking technology in 2019, with Wells Fargo, Citibank, and Bank of America not far behind. Electronic statements allow customers to review their financial activity quickly via email or smartphone applications. Outsourcing these services to a third-party gives smaller operations the ability to keep up with rising tech trends without breaking the bank.
Ninety-seven percent of millennial respondents from Business Insider's Intelligence's Mobile Banking Competitive Edge study stated that they regularly use mobile banking applications. With 89 percent of all respondents claiming the same, it is easy to see why banks are investing in new technologies. Paper statements are susceptible to damage and can become lost in stacks of unopened mail. As a result, consumers may be unaware of urgent overdraft limits or bank fees. Sending eStatements directly to a customer's smartphone or computer gives him or her the opportunity to monitor, store, and sort through the data easily. Click-through payment buttons can also be used to simplify the bill-pay process and increase collections. Setting up intricate mobile banking systems can take time. However, enlisting the help of third-party vendors to manage and distribute eStatements gives banks the benefit of mobile banking without the hefty setup costs.
3. Include Valuable Inserts
By including seasonal promotions or urgent announcements alongside monthly statements, banks can consolidate important communications and save money. Account-holders can learn about exciting new products and exclusive promotions while viewing valuable account details. There are a variety of insert options available to banking institutions, such as compliance updates, promotional deals, and late-fee notices.
Changes in strict banking regulations can be communicated to customers quickly and securely through established channels. Outsourcing these duties to a third-party vendor allows banks to focus on refining their marketing or compliance strategies instead of handling the cumbersome task of distribution.
Over the past few years, companies have become increasingly interested in digitalization. Although this trend is reflective of society's growing interest in smart technology, studies have shown that 45-75% of consumers would still prefer to receive paper bills, even if they opt to pay for charges online. Therefore, any additional correspondence sent with paper statements may have a higher viewing rate than it would if sent electronically.
4. Cost-Effective Solutions
The cost of supplies, such as stamps, paper, ink, and envelopes, can quickly add up, especially as these costs are often coupled with the wages of those overseeing operations. A study conducted by The National Federation of Independent Business (NFIB) found that companies with over 20 employees spend $1,000 per month on postage alone. This figure does not include the array of supplies, operational costs, and overheads associated with in-house mailing teams.
In fact, the average community bank pays $0.86 per statement. Let's say you send 100,000 statements each month. That totals to $86,000 in monthly expenses to send paper statements in-house.
A third-party vendor, like MailMyStatements, receives bulk discounts and can offer the same service for $0.68 (or less) per statement. Now, your 100,000 monthly statements only cost $68,000, reducing statement costs by $18,000.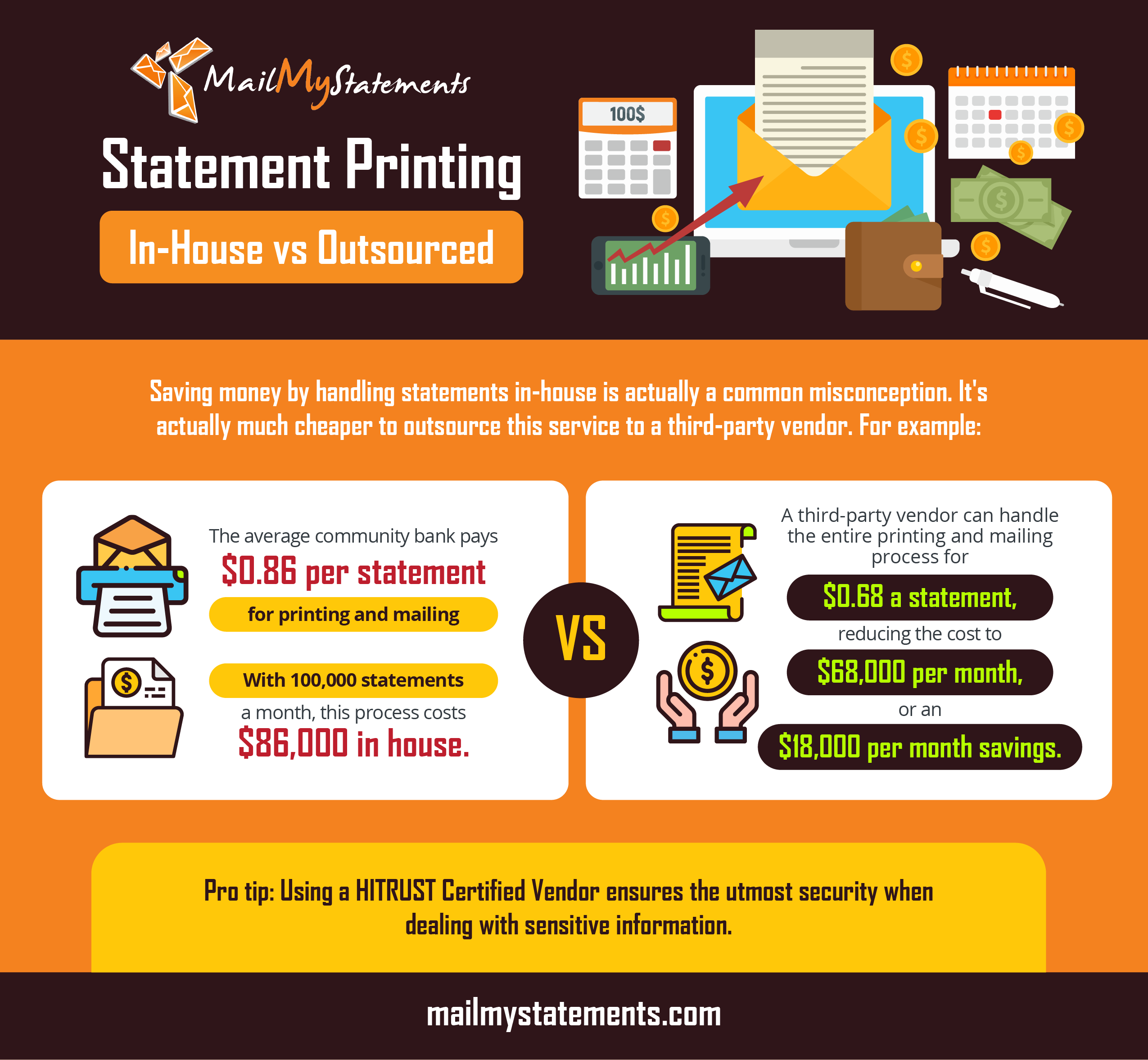 A second study sponsored by CDW surveyed banking executives on annual spending habits and objectives. The study revealed that 78 percent of respondents declared customer experience and fueling efficiency as top priorities. Outsourcing statement mailouts to third-party vendors can help banks achieve both of these objectives. Specialized vendors use streamlined systems that can increase printing and mailing efficiency rates, allowing institutions to re-focus their efforts on improving the customer experience.
5. Improved Statement Design
As previously stated, improving the consumer's experience is a top priority for banks. Third-party vendors condense the complicated jargon used within the banking industry into simple, conversational prose. Clutter-free, simple statement designs give recipients the opportunity to read through important information without becoming overwhelmed or confused. Furthermore, billing statements that use personal, easy-to-understand content can help lower financial-related anxiety in consumers.
The use of color and thoughtfully placed text can help highlight important information and improve communications. Branding can also be incorporated to promote uniformity across marketing materials. Consistency builds trust between businesses and consumers. Therefore, if account-holders recognize the branding of mailed literature, they may be more inclined to trust the source and read the contents.
Statements are a regular form of communication between banks and their account-holders. Outsourcing bank statement printing and mailing services to third-party vendors is not only fiscally responsible, but it can help improve customer relations and free up resources.
Get in touch with MailMyStatements to learn about our HITRUST Certified, technology-driven solutions.
LEARN MORE ABOUT HOW OUR SOLUTIONS CAN SAVE YOU TIME AND MONEY!
---
---