Point of Service Collections: How to Reclaim Patient Revenues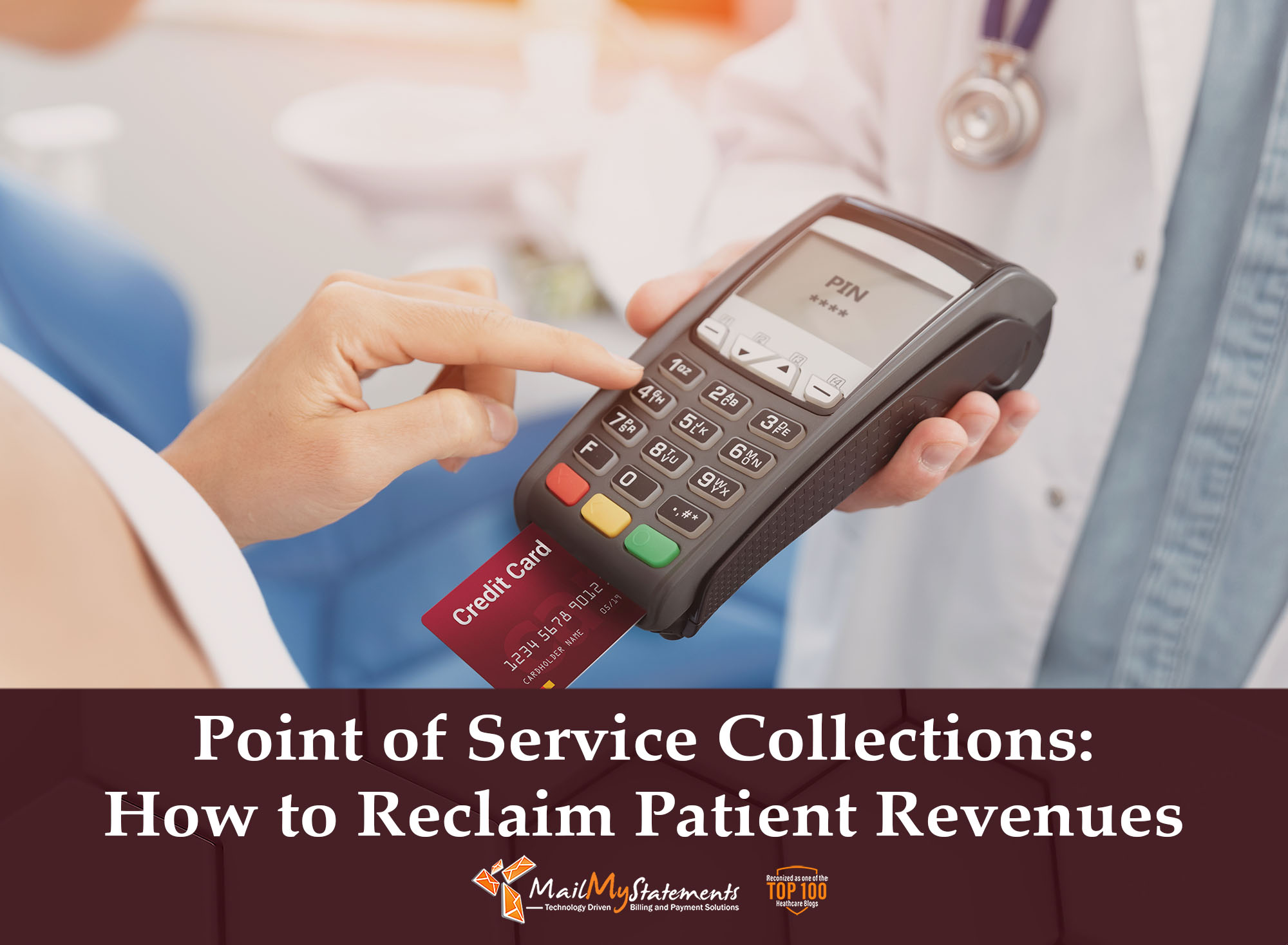 The healthcare model in America operates on a cyclical system, each component reliant on the stability of the one that comes before. If insurance companies charge too much for a policy, patients may struggle to cover out-of-pocket costs they owe to the hospital, which places pressure on the provider and may force them to increase treatment costs.
Consequently, if hospitals charge too much for procedures, insurance companies may be forced to raise their premiums to meet all of their claims, causing patients to default to out-of-pocket expenses—and the cycle continues. As a result, practitioners are becoming more reliant on point-of-service collections in an attempt to avoid chasing payments following treatments.
Patient collections are not traditionally practiced at the start of service. In most cases, insurance companies are billed for the initial cost of the procedure, and any fees not covered by the policy are billed to the patient later. Although co-pays may be taken before a service is administered, the patient's general expectation is to pay any out-of-pocket costs after the provider has issued the treatment. While this technique is attractive to consumers, providers struggle to collect and recoup unpaid bills from both patients and insurance companies.
What's Causing the Rise in Point of Service Collections?
The above issues have been exacerbated by the rise in healthcare costs over the past ten years. Kaiser Permanente's 2020 Employer Health Benefits Survey found that insurance premiums have increased by 22 percent since 2015, placing more financial stress on the consumer. Higher premiums mean patients have fewer funds to cover unexpected treatments, leading to unpaid provider bills.
Bankruptcy filings tripled in 2017 as hospitals and healthcare institutions failed to recoup their losses and reported an increasing percentage of bad debt. Uncollected patient payments may be the result of two driving factors:
Bad Communication – A recent Revenue Management Cycle Survey found that 83 percent of ambulatory providers, surgical centers, diagnostic facilities, and rehabilitation facilities miscalculated the patient's financial responsibility when administering services. An inability to correctly quote procedure costs leads to unexpected bills for the patient. As a result, consumers faced with surprise costs may be more resistant to pay.
High Deductibles – The same study found that 83 percent of small practitioners cited payments from high-deductible patients as the most challenging charges to collect. As consumers find it harder to cover monthly medical costs, they opt for lower premiums in exchange for higher deductibles. While this may seem fiscally responsible in the short term, patients may find it harder to cover their portion of the deductible when the time comes. According to Kaiser Permanente's 2018 Employer Health Benefits Survey, the average annual deductible for covered workers has risen by 53 percent in the last five years. If this number increases at a faster rate than income levels, patients will continue to find it harder to cover their portion of medical bills.
How are Providers Implementing and Improving Point of Service Patient Collections?
A 2020 Kaufman Hall Survey revealed that 40 percent of hospitals faced 10 million dollars of bad debt. Bad debt accumulates when providers fail to collect payments or issue charitable services. In an attempt to tackle bad debt, providers are requesting a percentage of the payment up-front from the patient.
However, consumers are used to paying their portion of the cost after receiving the services, which may result in negative feedback from the public. Georgia Health News reported that Piedmont Healthcare is requesting 25 percent of the patient's bill up-front. Critics are concerned that consumers may be forced to seek medical treatment elsewhere, possibly out-of-network. Below are three ways providers can implement point-of-service collections and improve existing models.
1. Improved Communication Clarity
A recent Revenue Management Cycle Survey found that 81 percent of smaller practitioners cited bad communication of the patient's responsibility as the cause of failed patient collections. Equipping staff with better resources and tools to assess payments may help decrease the likelihood of miscalculations. If the exact amount cannot be cited, quoting a payment range gives the consumer an idea of what they may be responsible for.
Improving the invoicing system and design of healthcare bills may also help clarify costs. Creating simple and informative billing systems may help both practitioners and patients better understand their financial responsibilities before a procedure.
2. Payment Plans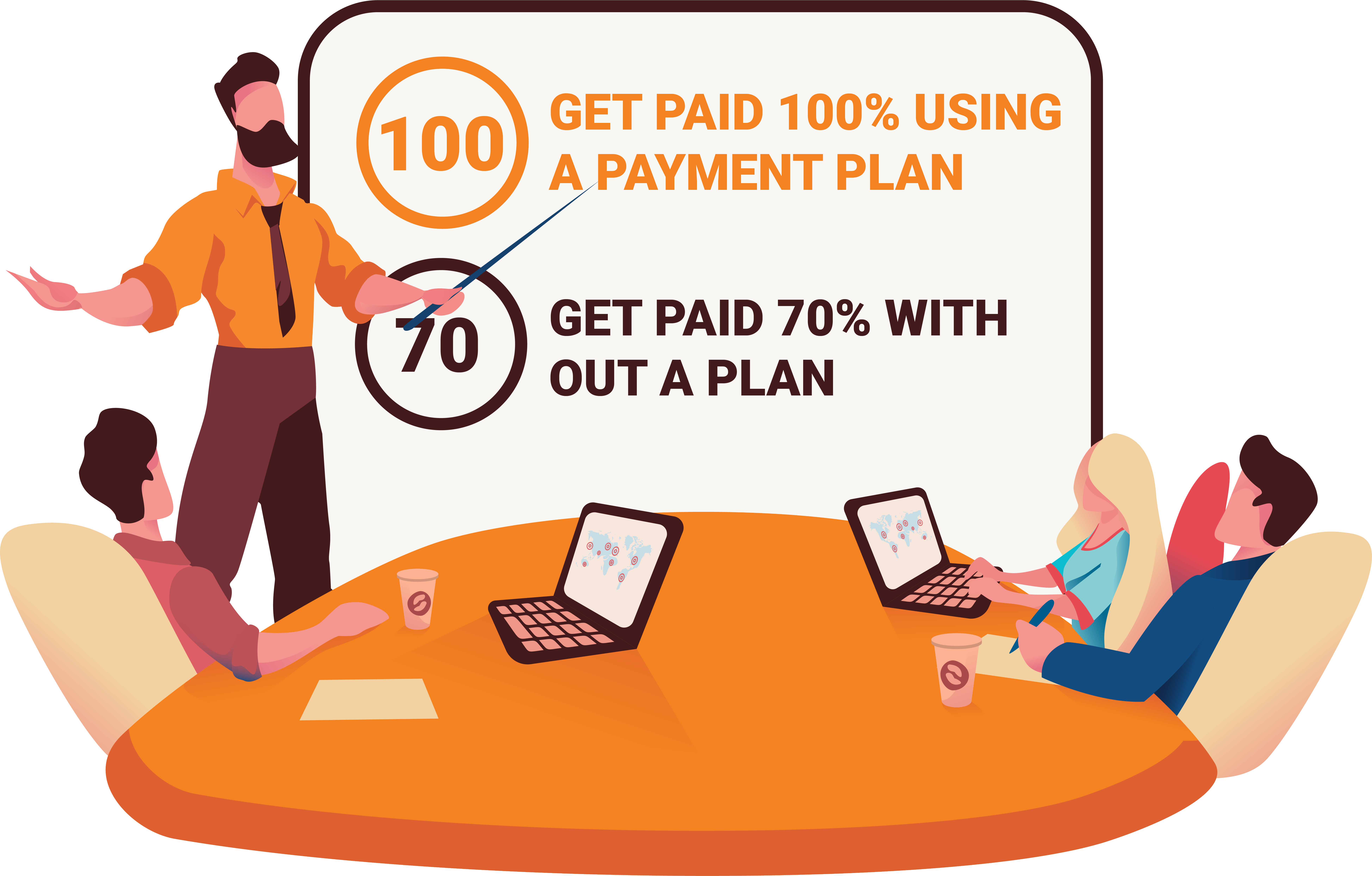 Consumers are not always financially able to pay large sums of money at one time. The likelihood of successfully collecting these types of bills can be increased by using a payment plan. Allowing patients to complete smaller, recurring payments over a set period of time may boost the chances of hospitals recovering the full amount owed.
Kaiser Permanente's 2020 Employer Health Benefits Survey found that families have experienced a steeper rise in premium payments in comparison to singles over the past ten years. Larger families may face various medical bills for multiple children while only relying on one income to cover the costs. Payment plans help alleviate the financial burden of single-income families by spreading the costs over time, benefitting both the patient and the provider.
3. Updating Terminology and Policy
Displaying clear financial policies helps patients recognize their financial responsibilities immediately. Using the term "deposits" may help consumers shift their mindset and accept costs with greater understanding. Consistent reminders for overdue patient payments issued when scheduling follow-up appointments prevent bills from lapsing before new treatments are administered. All of these techniques reinforce the concept that consumers must pay their portion before treatment while notifying them of their rights at the same time.
Studies have predicted that the number of patients who will fail to pay their healthcare bills in full will only continue to increase during the coming years. While this number is concerning, it's important to consider the causes. Americans appear to be struggling to save money for unexpected financial events. According to one poll, 37 percent of the population would face debt if forced to pay a $100 medical bill. Women are further affected, with 44 percent stating the same issue. If healthcare premiums continue to rise and providers fail to collect and clarify the patient's financial responsibility, hospitals and consumers may continue to sink into debt.
MailMyStatements offers several billing and payment solutions, from designing a unique and efficient online payment portal to creating and mailing branded paper statements. Because we are a HITRUST-Certified vendor, providers can rest assured that any billing or payment solutions implemented are done in the most HIPAA-compliant and cyber-secure way possible. Click here for more information on our state-of-the-art billing and payment services.
LEARN MORE ABOUT HOW OUR SOLUTIONS CAN SAVE YOU TIME AND MONEY!
---
---