7 Strategies to Collect Patient Balances Quicker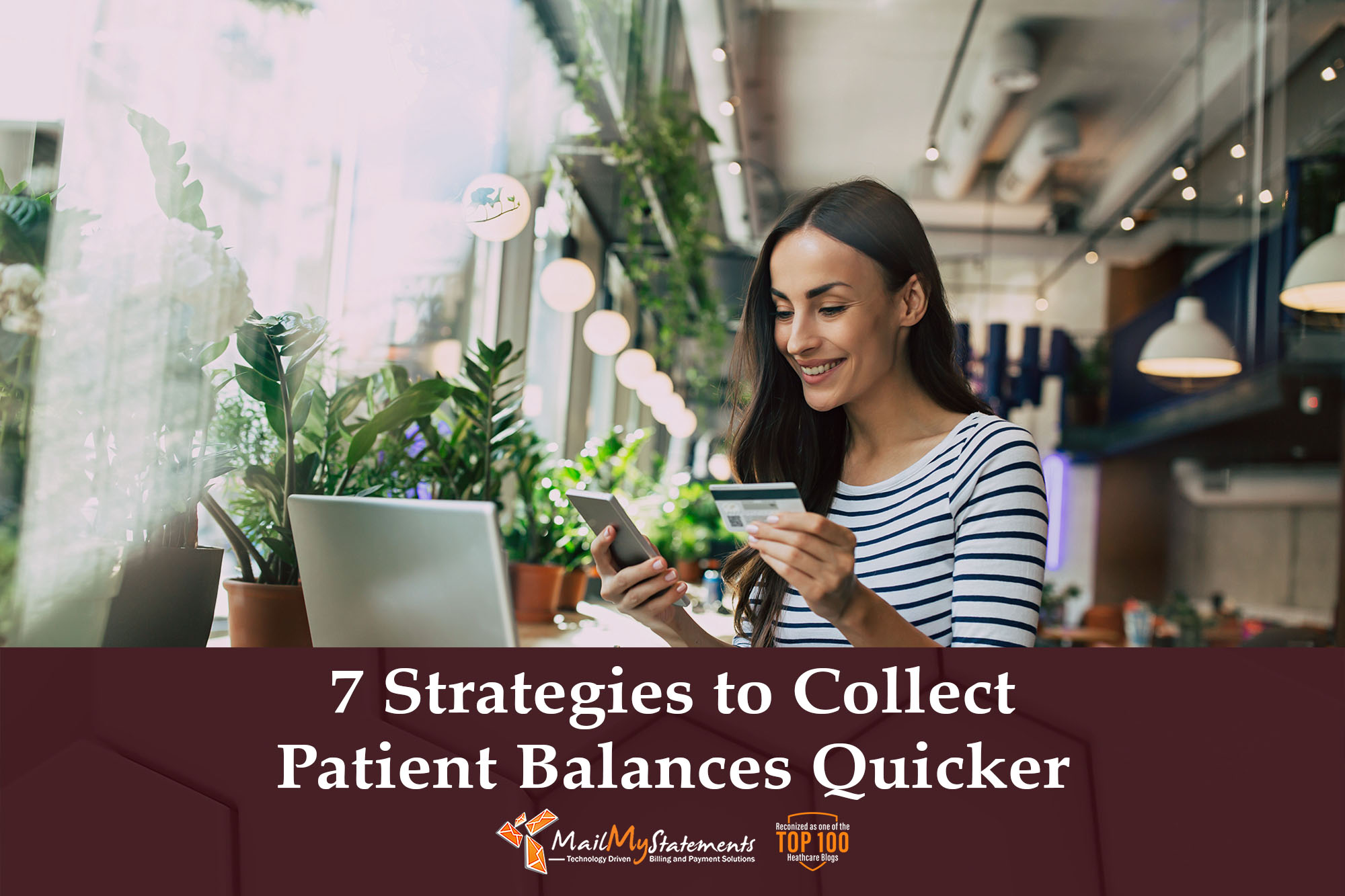 Here are seven things you can do to collect patient balances:
Take Advantage of Integrated Statement and Payment Systems
A properly integrated patient statement and payment system simplifies the billing and collection process for both patient and practice. After receiving a billing statement either via mail or email, the patient may then use the provided instructions (like scanning a QR Code with their mobile phone or following a link) to pay their financial obligation within minutes. Medical practices that use multiple providers for both statement and payment systems often see a poor user experience, which can contribute to a delay in collecting patient balances. Taking advantage of one simple system not only significantly improves the patient experience, but also helps practices offer additional technology they might not have the resources for in-house.
Offer Payment Options and Payment Plans
Encourage patients to pay their bills by making it easy for them.
You can offer different payment options so patients can choose a method that's convenient and easy for them (e.g., check, credit/debit card, mobile payments, QR Code scans).
Offer payment plans to break up large bills and work with patients to customize an installment plan that works for their financial situations. Patients are more likely to start making payments if they have the money to pay for the first installment in a payment plan.
You can also shorten your payment cycle by collecting payments while a patient is still in your office or medical facility. You can encourage patients to pay on-site and pay in full by offering an incentive (e.g., a discount or complimentary service).
Speed Up the Invoicing Process
Consumers are used to receiving bills from service providers within a few days, if not just a few hours. The longer you wait, the less likely patients are to pay.
Use a medical billing service that allows you to streamline the billing process and send out patient statements as soon as possible to increase the chances that patients will recall the details of the treatments and pay their bills.
Choose a mailing and billing solution that integrates seamlessly with your existing systems (e.g., EHR) so you can get up and running in no time, lower costs, increase operational efficiencies, and collect patient balances.
Discuss Financial Responsibilities with Patients Before Treatment
Nobody likes getting surprise bills!
When patients don't understand their medical bills, they're more likely to develop a negative impression of the provider and less likely to cooperate. Improve your patient experience by developing a patient communication strategy to build relationships and improve satisfaction.
Train your staff to discuss treatments, costs, and payment options with patients before starting any treatment. Make sure they approach the conversations with courtesy and professionalism instead of adding more stress to patients' lives.
When patients are happy with their experience, understand the cost of the treatment, and get great results, they're more likely to pay their bills promptly.
Encourage Online Payment
As more consumers are used to the convenience of making purchases and paying bills online, having to write a check, lick an envelope, and find a stamp could cause patients to "procrastinate" on making their payments.
Set up an online portal on which patients can manage their accounts, view their statements, and pay their bills. Direct patients to this service by clearly listing the website URL or including a QR code in your patient statement.
To make it even more convenient for returning patients to make payments, you can encourage patients to store their credit cards on file. Use a payment solution that enables you to set up each patient's card-on-file for scheduled and flexible automatic credit and debit card payments so you can offer a convenient service, improve the patient experience, and get paid on time.
Improve Your Patient Statement
Many patients delay making payments because they don't understand the charges they have incurred. They hold off until they find the time to call your office and have someone explain the charges to them.
A patient statement that clearly itemizes the components of each treatment and associates them with the provider in your medical practice can help patients understand their responsibilities.
If you have multiple providers or departments in your facility, providing an integrated patient statement will help minimize confusion while making it convenient for patients because they only need to make one payment.
In addition, your patient statement design should highlight the balance and clearly indicate how patients can make payments (e.g., address to send a check or URL to pay online).
Automate Follow-Ups
You stand to increase your collection rate by sending follow-up reminders to patients via multiple touchpoints, such as email, text, and phone.
Having to send out reminders manually or call patients one-by-one can put a lot of strain on your resources. You can use a practice management software that allows you to automate these patient communications to increase the cost-efficiency of your operation.
You can also take the opportunity to improve patient results, deliver a better patient experience, and build relationships by including relevant and helpful post-treatment information and resources (e.g., link to an article on your website) in the email reminders.
Final Thoughts
Streamlining your medical billing process, improving patient communications, and offering various ways for patients to pay can help shorten payment cycles and collect patient balances.
While outsourcing your billing and payment process can increase operating efficiency and reduce costs, it's vital to make sure your patients' information is safe.
Work with a reputable service provider that has the right security measures in place to safeguard your patients' private information and ensure that you remain compliant with industry standards such as HITRUST, HIPAA, NIST, and PCI-PSS.
MailMyStatements specializes in technology-driven billing and payments. Learn more about our HITRUST-compliant managed medical billing and mailing services here.
LEARN MORE ABOUT HOW OUR SOLUTIONS CAN SAVE YOU TIME AND MONEY!
---
---