Why Working With HITRUST-Certified Vendors Should be Your Priority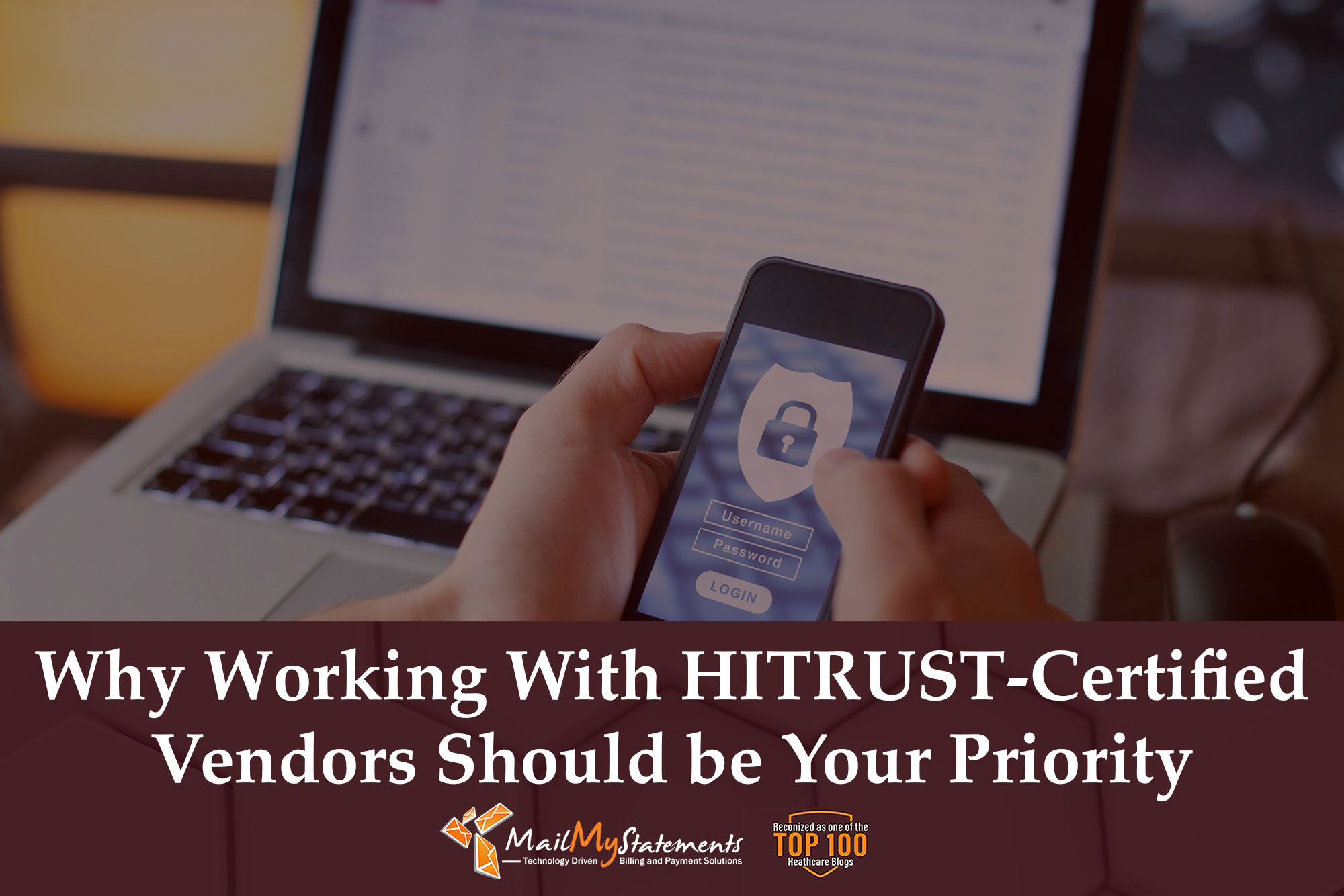 Working with HITRUST Certified vendors is quickly becoming integral to healthcare systems' cybersecurity and patient data protection efforts.
The growing demand for sensitive patient medical information on the black market presents mitigating circumstances for healthcare professionals. In fact, 7.9 billion records were breached in 2019 by only September and there is a 76% chance of five million more patient records expected to be breached by mid-2021.
Stolen healthcare data is highly sought after and valuable because it is not perishable. When credit card numbers are stolen, those numbers can be easily changed to halt the breach. This is not the case with valuable personal medical data, which includes names, birthdates, Social Security numbers as well as other personal and medical information. It is not likely that the demand for stolen healthcare data on the black market is going to slow down.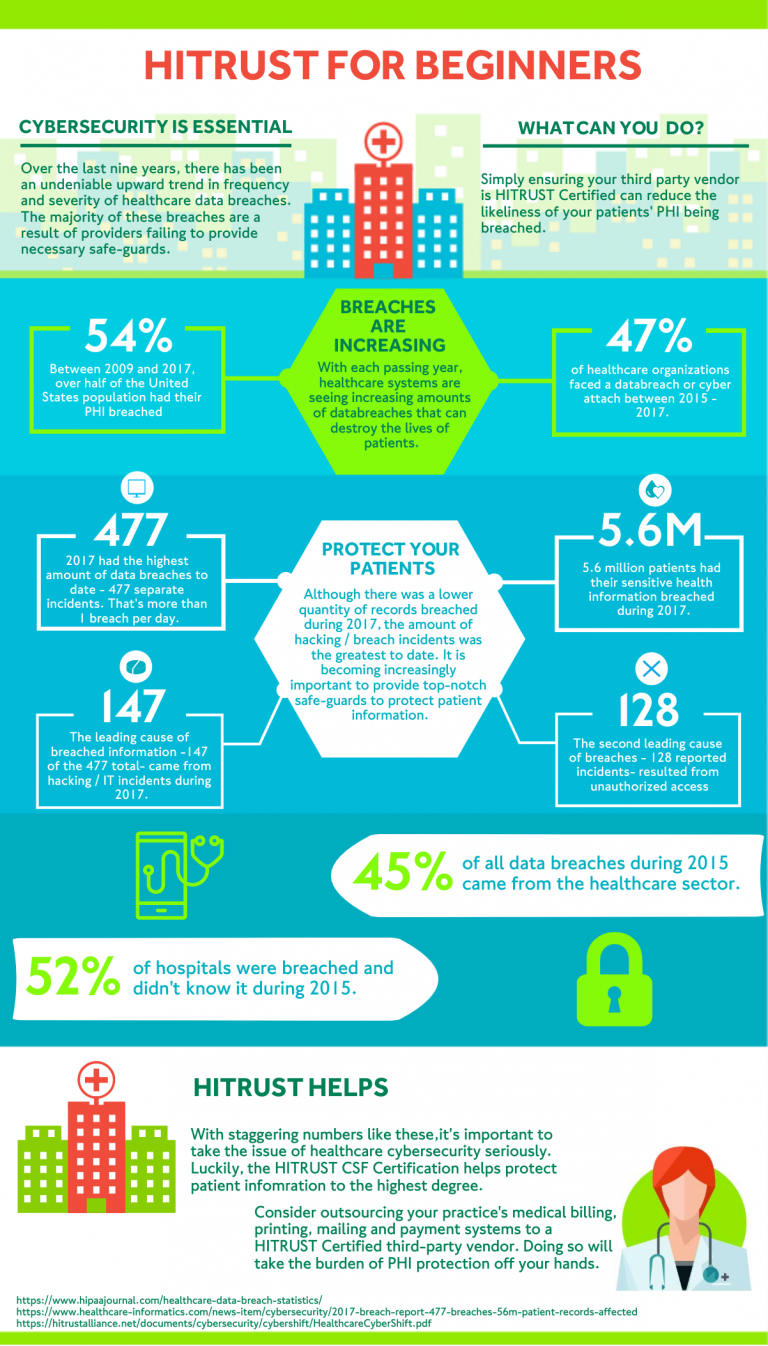 Unfortunately, healthcare organizations have no reliable experience providing any type of scalable risk assurance in the industry. Standards for information security framework are only now becoming mainstream, but they are still not a required template within the healthcare billing landscape. Guidelines for data security and stricter measures do provide a common fundamental framework, but they are not enforceable. The most effective current protection against cyberattacks and security breaches regarding sensitive medical information is using only Health Information Trust Alliance (HITRUST) -certified vendors. All vendors involved with the medical billing process and certain aspects of patient communication regarding this sensitive information should have this invaluable certification.
HITRUST-Certified Vendors: A Cost-Effective Way to Mitigate Risk
HITRUST maintains a common security framework (CSF) by harmonizing all healthcare information security compliance standards. A HITRUST CSF certification is valid for two years and is only awarded after careful assessment, validation, and approval, which includes on-site visits. A HITRUST CSF certification allows organizations to follow all HIPPA security compliance standards while painlessly transitioning and evolving into better protocols for patient information management. All security requirements from multiple regulations are brought together in one central location for tracking compliance, saving organizations both time and money. Requiring vendors to achieve a HITRUST certification showcases an organization's commitment to the security of patients' sensitive personal and medical information.
Increase Security and Maintain Compliance
In 2011, the Texas Health Security Authority (THSA) passed House Bill 300, which is designed to comply with all state and federal privacy laws relating to the security of sensitive patient health information. At the state level alone, civil penalties range from $5,000 to $250,000 for each non-compliance violation. The THSA contracted with HITRUST shortly after passing the House Bill 300 to develop a reliable yet cost-effective certification plan to keep healthcare providers and their vendors in compliance. This certification not only maintains regulatory compliance but also provides a statutory protection against a data breach.
Final Thoughts
MailMyStatements is a HITRUST-certified healthcare printing, mailing, and payments company that streamlines patient engagement and private-pay collections with a personalized technology-driven approach. We address your specific organizational requirements to optimize the billing and payment process with a cost-effective, patient-friendly technique, all while maintaining critical compliance standards that are valuable to your organization. Our advanced payment technology includes QR code statements and secure patient portals that simplify the payment process for patients. Our software is easy to use, and our onboarding process is free.
Protecting patient and organizational data is our number one priority. As a HITRUST-certified vendor, MailMyStatements can help you modernize and secure your entire patient billing and payments process. Our elegant patient billing service ensures a seamless integration with your current system, allowing you to bring your compliance technology into the 21st century. We offer a wide array of electronic statement and payment solutions to help you improve the quality of patient communications, reduce associated costs and improve payment turnaround time. Our partnership approach maintains and not only improves your organization's compliance, but we also improve patient financial interactions and help your organization to achieve its revenue cycle goals.
LEARN MORE ABOUT HOW OUR SOLUTIONS CAN SAVE YOU TIME AND MONEY!
---
---