5 Avoidable Patient Statement Mistakes (With Solutions)
Do you prioritize patient statements as one of the most important patient-practice communication tools? If not, you should. Existing at the end of the patient's journey, they are often treated as an afterthought.
Patient statements play an essential role in a practice's revenue cycle; they are responsible for communicating services performed and requesting payment for such. When patients are confused or feel that the collection system is too complicated, they put off submitting payment. Practices also risk wasting valuable resources without the proper patient statement tools.
Because many practices tend to overlook the importance of patient statements, they also make the following mistakes.
Luckily, the solutions to these problems are simple.
Mistake #1: Design
Problem
A patient statement without any design consideration is problematic for various reasons. Most importantly, basic statement designs leave the patient confused about what and why they owe. This confusion leads to an increased amount of time before making a payment. Additionally, healthcare practices that fail to prioritize a modern design usually miss additional opportunities to better the practice-patient relationship.
Solution
Redesigning your patient statement is an investment that yields big returns. Simple design eye-science tricks like the use of different colors, texts, font sizes, charts, and images help to clarify important information without confusing the patient.
Pro tip: Does designing a visually appealing statement sound time-consuming or difficult? Statement vendors like MailMyStatements have various professionally designed statement templates available.
Mistake #2: Not Using Integrated Patient Statement and Payment Systems
Problem
Failing to integrate existing statement and payment systems presents a huge missed opportunity for a seamless patient experience. A disconnect between the two typically results in higher operating costs and reduced collections.
Solution
Use the same vendor for both patient statements and payments. Doing so provides opportunities to directly lead the patient from their statement document (or online statement) to their payment portal, where they can submit payment from their existing account in seconds. Using one system also reduces training needs and implementation time.
Mistake #3 Failing to Offering eStatements
Problem
Are you part of the 71% of providers who still do not offer eStatement options? Did you know that 71% of patients would prefer to receive their patient statements electronically? Failing to take advantage of this technology-enabled communication form may detour patients from making payments.
Solution
Provide patients with the ability to opt-in to receiving their statements via email. Doing so can drive down statement delivery costs while catering to patient preferences. Electronic statements make it easier for patients to submit payment immediately through direct links or quick click payment options, significantly reducing the number of days a patient's balance sits in accounts receivables.
Mistake #4: Wasting Money
Problem
Healthcare systems that handle their statement printing and mailing in-house often spend significantly more than those who outsource the tasks. Not only are the resources (stamps, envelopes, printers, etc.) more costly to individual practices, they must also pay staff to complete the job.
Solution
Outsourcing statement print and mail needs can cut costs by 30%. Vendors receive bulk discounts on materials, then can pass along those savings to customers, while handling patient statement functions in house can cost $1.00 per sent statement. Using an outside vendor also frees up the time of in-house staff members to focus on other needs within the practice.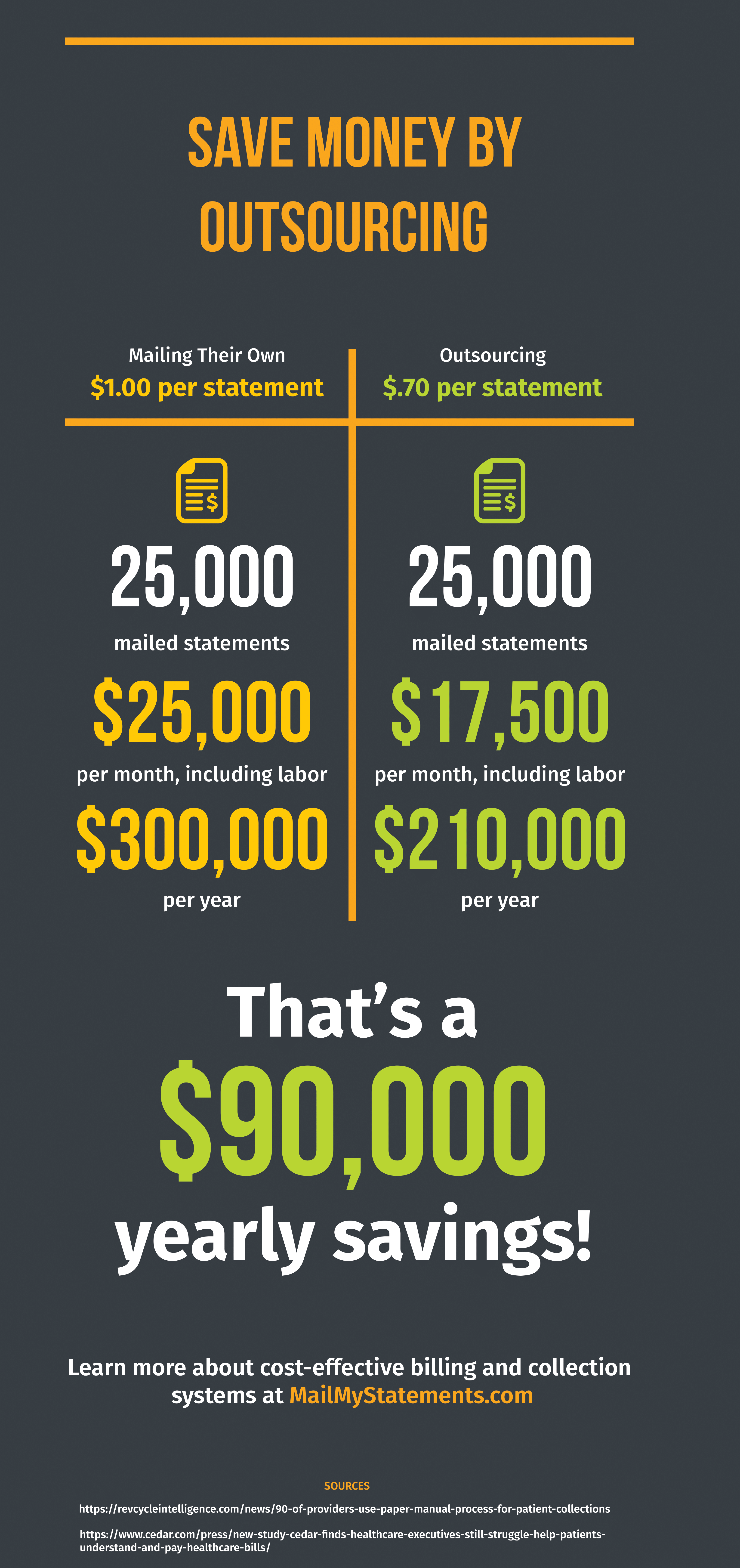 Mistake #5: Not Collecting Data
Problem
Actively testing various statement designs, delivery mediums, or other factors is not enough to improve the patient statement and collection process. Without hard data, it's challenging to conclude which methods do and do not help with improving patient satisfaction.
Solution
Collecting and analyzing data is one of the best ways to improve processes over time. By closely tracking the number of payments received within a time period then cross-referencing them with the number of support calls sustained, you can see what is working and what isn't. This way, you can focus efforts on a design that diminishes time in patients' accounts receivables and strengthens the revenue cycle. Patient satisfaction is also a big contributor to accelerated payments. Ask for your patients' input and integrate it into your processes.
Final Thoughts
Many healthcare practices tend to overlook the importance of their patient statement design and overall print and mailing process. An intelligent billing statement is a critical touchpoint that helps build valuable customer relationships. A poorly executed medical billing system creates patient confusion, erodes customer satisfaction, discourages timely payments, and increases administrative overhead.
MailMyStatements is a technology-driven patient statement and payment vendor that offers managed billing needs from payment plan capabilities to statement design. Get in touch with us today to learn more about our various solutions to help increase patient collections.
---
---