5 Ways Outdated Healthcare Billing Hinders Patient Care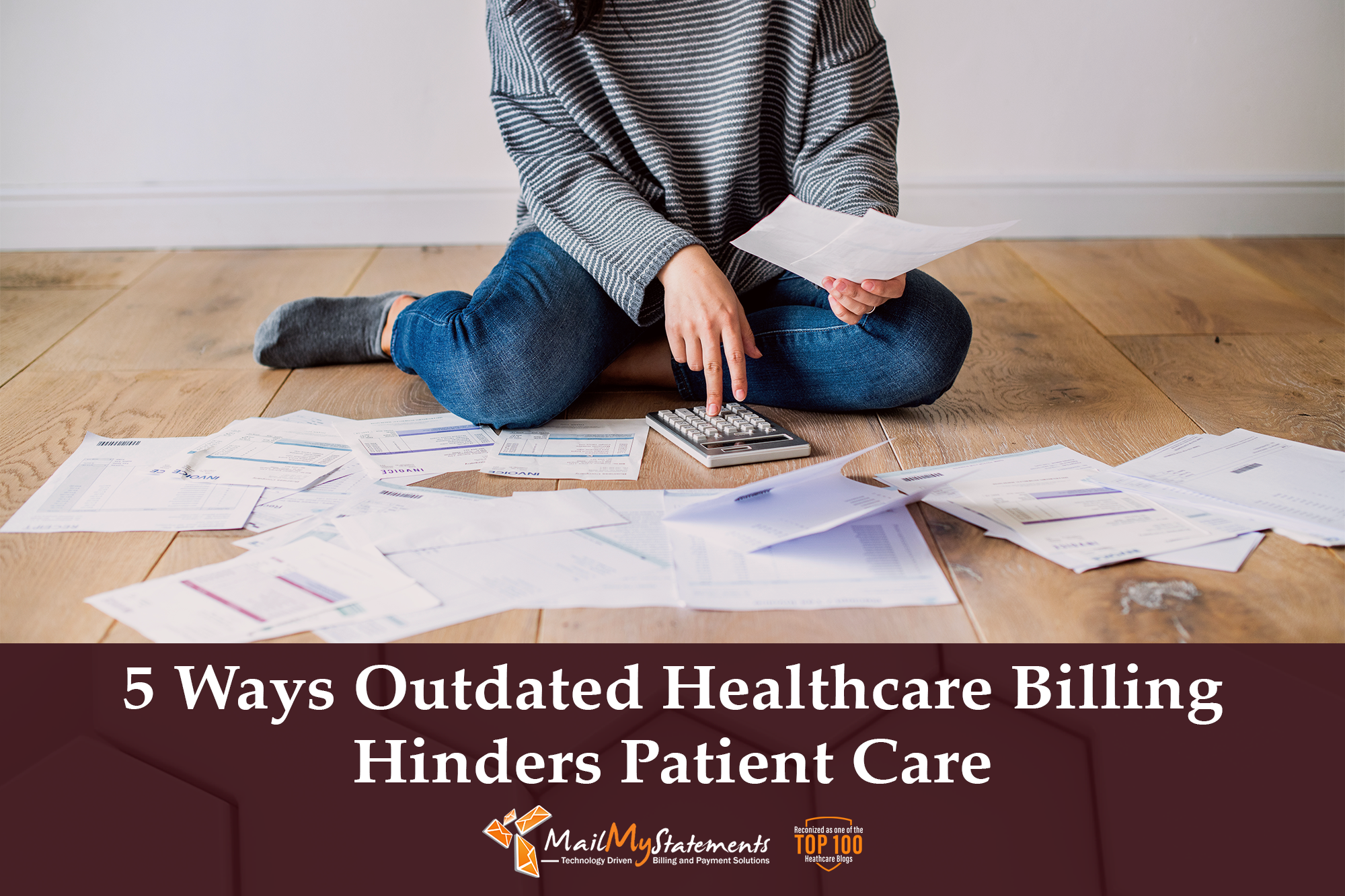 Skipping investments in new healthcare billing systems? There's a price for that. While it may seem tempting to hold onto legacy systems as long as possible, not upgrading creates challenges for the provider, the facility, and the patient.
1. Excessive Postage Costs
Older systems may not have the capabilities of newer ones, which means you could be leaving significant time and money on the table. And, as technology goes, older systems become more expensive to maintain and less secure over time. Consider these five challenges that older healthcare billing systems create and why it's time to upgrade to a cloud-based healthcare billing service.
The cost of sending paper mail is rising. Earlier this year, the U.S. Postal Service petitioned to increase the price of a single stamp by as much as $0.03. The last increase was just a few months prior, when stamp prices increased from $0.60 to $0.63. Inflation is a likely culprit, but even as the economy corrects itself, postage rates rarely go down.
Paper supply costs continue to climb too, reaching a 9.7% increase in 2021 alone. Weakened supply chains from the pandemic are still impacting basic office necessities like paper, not to mention the effects from higher gas prices and labor shortages.
A sheet of paper might not seem like a significant expense, but using multiple sheets at a time to bill multiple patients each day can quickly add up. To offset these costs, healthcare companies can send patient estatements that save on both paper and postage.
2. Slow Collection Cycles
Sending a patient statement via mail can prolong the collection by months, especially if the provider must send duplicate statements over time. Nearly 70% of patients receive their first statement more than one month after a healthcare visit.
Patients may not receive their statements in a timely manner due to delays in mail delivery or incorrect address information. And once they do receive the bill, paper statements can easily get lost or misplaced, which prolongs the revenue cycle. This can lead to confusion and frustration on the patient's part, causing them to delay payment or even forget about the bill altogether.
Sending healthcare estatements allows you to deliver patient statements immediately, reducing the potential for delays, incorrect information, or non-receipt.
3. A Poor Patient Experience
The concept of a paperless office emerged in the 1980s, but the "push for paperless" didn't gain steam until much later, when more companies gained access to technologies that enabled digitization. With more organizations shifting to paperless transactions, these practices become more commonplace and consumers feel more comfortable with them.
Sending digital statements allows healthcare organizations to connect with patients where they already are—on their smartphones or computers. These are the same technologies they use to work, order groceries, purchase clothing and household items, check their bank accounts, and even request healthcare appointments.
Patients prefer both digital communication and payment options like estatements, text message reminders, and payment plans. More importantly, 78% want the option to choose how they receive communications.
Having the option to offer SMS texts, emailed statements, patient portals, and similar channels gives patients more control over their billing and payment experience—and increases the likelihood they'll notice and act on their statements.
4. A Burden on Staff and Resources
Burnout among healthcare workers was already high pre-Covid, but the effects of a two-year pandemic made the problem more widespread. Some of the most common issues cited by healthcare workers are excessive workloads, administrative burdens, and workforce shortages—and better healthcare billing systems can provide some relief to each of these root causes.
Sending statements via mail requires additional people resources from healthcare providers. Workers must manage physical copies of documents, which requires printing, envelope stuffing and sealing, filing, and manual data entry. This extra work takes away valuable time from staff members who could be focusing on other important tasks.
Updated digital billing systems often incorporate automation and AI, helping to streamline processes and reduce the burden on staff. This also reduces the need for manual entry, which may reduce errors and lead to a better patient experience overall.
5. Security Issues
Providers who use traditional communication and payment collection processes typically do not have a robust security system in place. Unprotected healthcare billing systems are ripe for cyber attacks, especially as hackers' methodologies for attacking healthcare systems become more advanced and harder to detect.
Research shows a single healthcare data breach costs an average of $9.3 million per occurrence. Healthcare companies have a higher chance of being targets of a cyberattack compared to the global average, and breaches are nearly twice as costly. Breaches disrupt business operations, erode employer reputation, and result in a loss of patients and revenue.
By updating to a cloud-based billing system, healthcare companies ensure the latest security protocols and features are in place. This will help protect sensitive patient information such as medical records, social security numbers, and financial data. A newer healthcare billing system will also allow you to implement two-factor authentication and encryption for added protection.
How Digital Solutions Eliminate the Challenges of Outdated Healthcare Billing
Digital statements are revolutionizing the way patients interact with their healthcare providers, creating a more convenient and efficient experience. With digital statements, patients can access their medical bills and other important information from the comfort of their homes or on the go.
Patients no longer need to worry about losing paper bills or waiting for them to arrive in the mail. Instead, they can receive alerts when a new statement is available, review it online, and make payments directly through the same platform. This not only saves time and money but also reduces errors caused by manual data entry.
MailMyStatements helps you create an optimal patient experience while eliminating the challenges that come from outdated legacy billing systems. Contact us today to learn more.
---
---