How Color Patient Statements Encourage Prompt Payments [Infographic]
Despite the benefits of color inkjet technology and an eye-catching colorized statement, the majority of providers have yet to switch to color patient statements. In fact, a recent study from Madison Advisors shows that 75% of service providers' total image volume remains printed in monochrome.
There are many reasons that service providers still use monochrome for customer communications and statements. Providers may still be working with dated software systems that inhibit the ease of transition to color printing, and many company decision-makers may not be willing to pay for the costs associated with color printing.
However, unread statements can rack up a significant bill, too. Because postage expenses represent between 67% and 75% of the total cost associated with sending paper mail, service providers can't afford to have their mailings go unopened or unanswered by their customers.
The initial cost of transitioning to color printing can be daunting, but the potential return on investment makes a strong case in color printing's favor. Color printing makes back its upfront costs by eliminating the high-maintenance costs of old printing equipment, reducing the number of roll changes and set-ups, allowing longer print runs, and eliminating costs associated with managing a large number of pre-printed stocks and numerous envelopes. The cost reductions combined with the real estate that is made available from replacing large, outdated systems with smaller and more efficient color printing systems mean that color printing has a speedier payback period than many businesses may believe.
In addition to a quick payback period, there are many unrealized benefits of color printing that your business could be missing out on.
What About eStatements?
eStatements have grown in popularity in the past decade. They are eco-friendly, easier to automate, and eliminate costs associated with paper mailings. Using color features on a digital statement results in the same retention benefits as a color-printed statement.
Because the read rates among elderly patients are much lower for estatements than they are for traditional paper statements, utilizing both printed patient statements and digital estatements is the best way to accommodate various patient demographics. An omnichannel strategy is worth the investment and will help ensure your messages get to your customers, but service providers should remember to invest in a strong print communications strategy as well. After all, if your business is already spending the money to send paper mailings, it's in your best interest to make sure your paper mailings are doing as much work for your business as possible.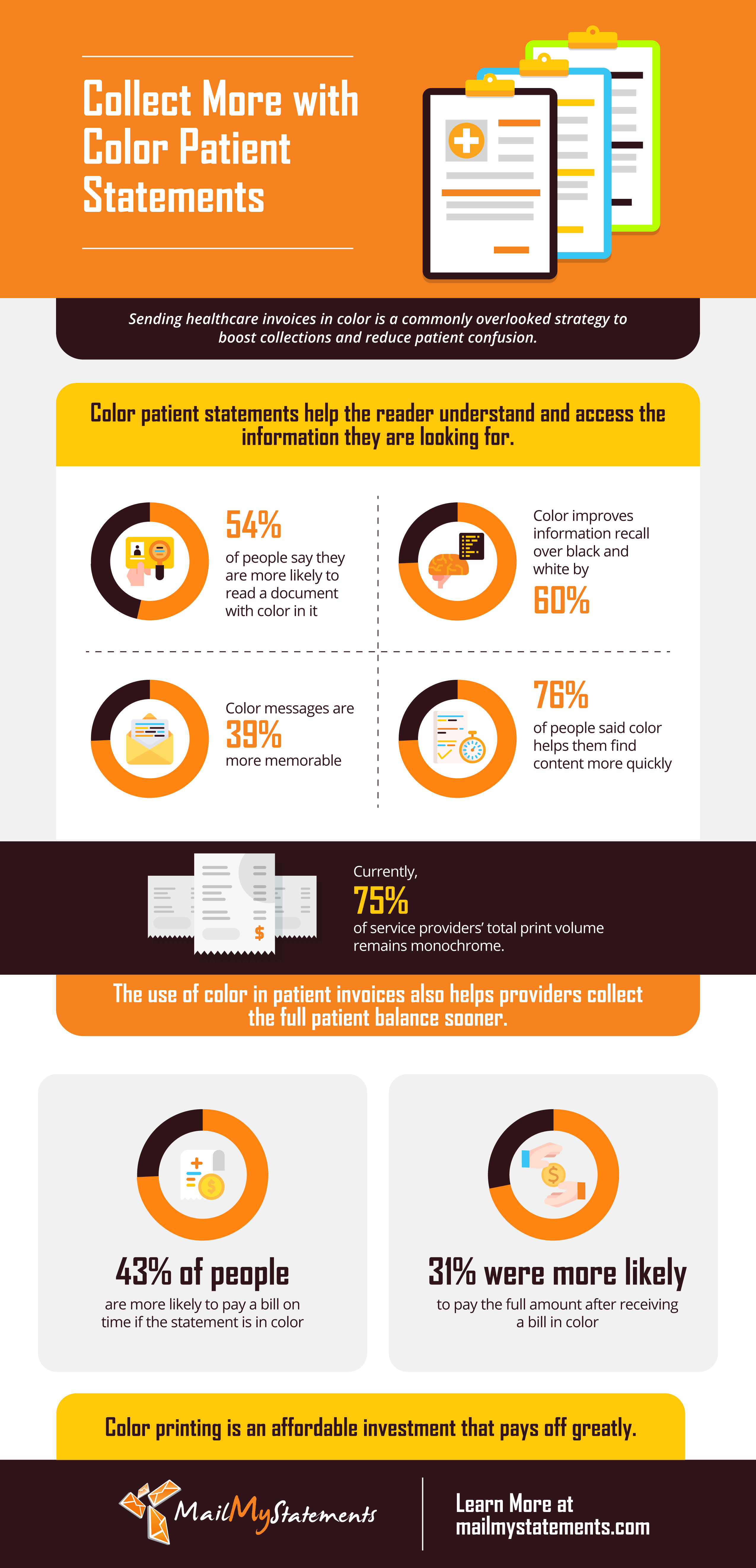 Here are four ways color printing can work for your business in ways that monochrome statements can't.
How Color Patient Statements Make a Difference in Your Billing Strategy
1. No more Missed Communications Opportunities
"Message sent" doesn't always mean "message received." While a monochrome statement will deliver important or promotional information to your customers just the same as a colorized mailing would, your customer is more likely to read and remember the information in a color-printed mailing.
It's a well-established psychological fact that people remember information better when it is associated with a color cue (have you or your child ever studied using colored pens or flashcards?). When the only communication your customer receives from your business is their monthly statement, you only have 12 opportunities to deliver important information and interact with your client base. Color patient statements can help you maximize the little time your statement has in front of your customer by helping them remember important information about your business.
2. Eye-Catching Color Patient Statements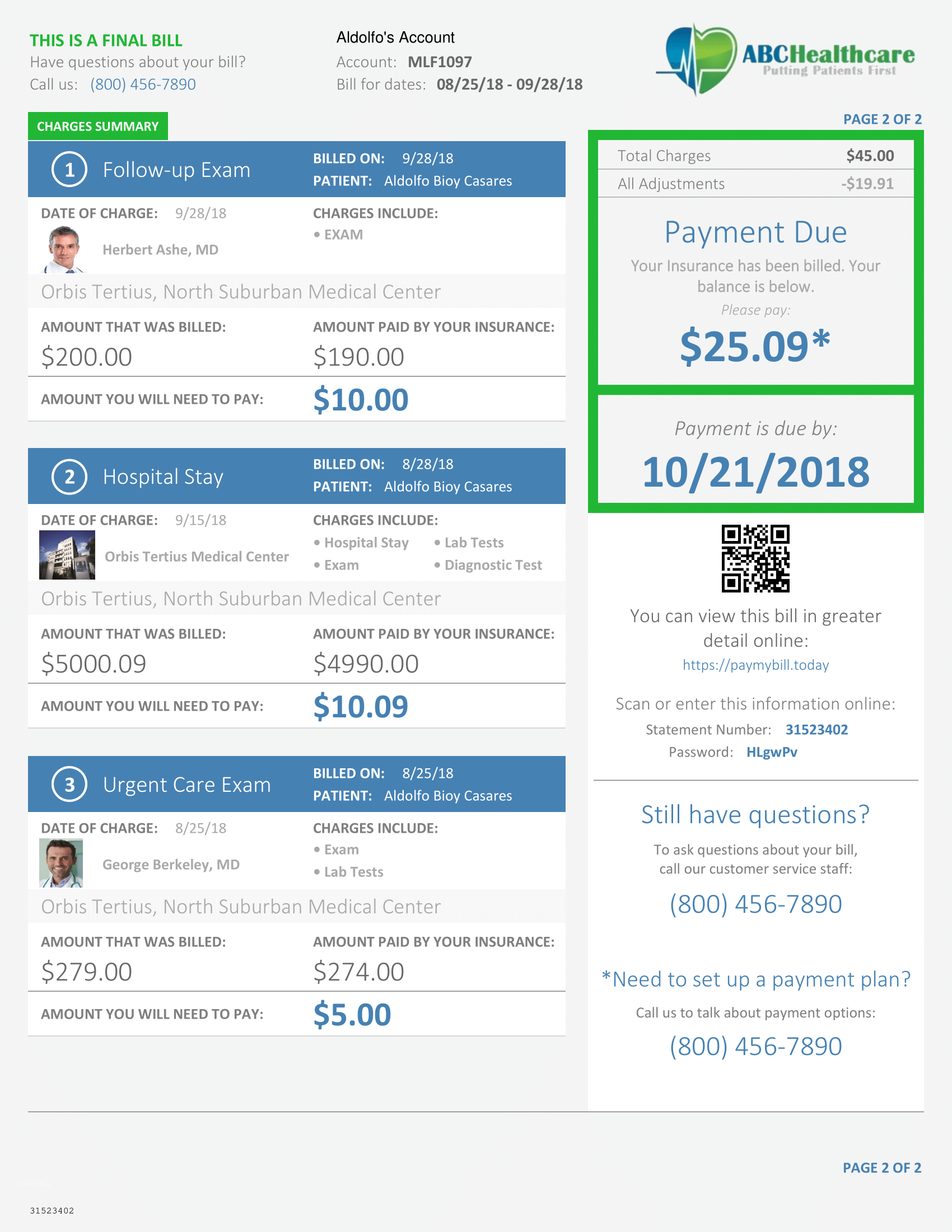 Strategically incorporating color into your monthly statements can evoke a more urgent response in your customer. Using a bold red to indicate a near-overdue payment and a kelly green to indicate the sum your customer needs to pay can help you direct their eye to the parts of the bill they need to pay attention to.
A captivating color scheme can also draw your customer's attention to important yet non-billing-related information—whether that's the latest info about how your business is responding to the COVID-19 pandemic or a paragraph about a new service your company has been advertising. Color printing applications are endless, and they will help key information stand out against the rest of your mailing.
3. Stronger Brand Awareness
Your organization's marketing department has likely spent a long time developing a set of fonts, colors, and imagery that evoke your company's brand persona. If your business is currently running any print or digital ad campaigns, your current and prospective customers will see these elements on billboards, TV ads, social media, or other web platforms.
This is a good thing! As previously mentioned, color cues help improve memory. When customers visualize your business, they'll think of the advertisements they've seen, your company logo, and any mailings they've gotten. When you print statements in black and white, you miss out on the opportunity to apply these marketing elements and strengthen brand awareness. In addition to developing a stronger sense of brand awareness within your customer, color patient statements also give a cohesive and put-together look.
Making the switch to color patient statements can push your business to the front of your customers' mind, thus helping them remember to pay their bill, reach out to schedule an appointment, or—in a best-case scenario—remind them to recommend your service to their friends.
4. A Better Customer Experience
Monochrome statements can easily get lost in the sea of other opened mail on your customer's kitchen table. When that pile gets swept away into the recycling bin, you now have to send a late payment reminder, which drives up costs for both you and your customer. Many clients don't have the extra capital to spend on late fees.
By designing and printing a colored statement that stands out, your customers will have an easier time reading, understanding, and paying their bills on time.
Let Your Billing Solution Do the Work for You
Color patient statements can keep your customers more engaged in your company and save significant capital that would otherwise be spent on duplicate mailings and late statements. MailMyStatements' printing provider, Madison Advisors, uses color inkjet technology to create striking colored statements that are designed to maximize readability and look exactly as they do on a digital screen.
MailMyStatements will work with you to develop the perfect color scheme for your statements. They also offer a billing design statement template that can facilitate faster payments and retain more customers. These templates are in compliance with federal regulations and include multiple features that ease the customer experience, such as insurance information, a detailed breakdown of the total billing amount, and the integration of bills from multiple departments or visits to reduce paperwork and ease the payment process.
An organized and logical statement design will work best with color printing—click here to learn more.
LEARN MORE ABOUT HOW OUR SOLUTIONS CAN SAVE YOU TIME AND MONEY!
---
---